The cookies and milk may be next to the tree and the stockings hung with care, but Santa's making no guarantees he'll be shimmying down your chimney this year! With economic times in disarray, even Santa Claus—the universal symbol of gift giving—is
We all know the saying "history repeats itself," and I think it's pretty safe to say that fashion repeats itself, too. With my mom as my witness, she never thought she would see me wearing her cropped, green silk blouse,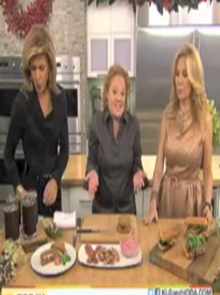 Top Chef alum Tiffani Faison teaches Hoda and Kathie Lee how to make a Narragansett Beer cocktail on the Today show.
Fashion & Lifestyle Expert Debbie Wright discusses the top five trends for 2012 and features Stages of Beauty's skincare lines as the best way to maintain perfect skin.
Have you ever experienced that moment when you stumble upon something so simply brilliant, so glaringly missing from your life heretofore that you think, Why the hell didn't I think of that?! Well, I found myself in such a situation recently, namely
So Bradley Cooper was awarded People's Sexiest Man Alive 2011…but those baby blues have nothing on these raisins. Wait…what? You heard me right. Thanks to Chicago-based artist Katherine Kalnes, the handsome, charming, and talented Ryan Gosling can now be ogled at as
I have a confession… There's something about the crisp, fall air that makes me want to throw on an apron and bake. Yes, I know, scary. Don't call me Betty Crocker…yet. Right now, my baking is limited to pumpkin delights that fill
90's boy band sensation and everyone's favorite (formerly?) blonde-haired family trio, Hanson, has made a comeback. No, they don't have another hit single like 1997's "MMMbop." Instead, they're delving into the lucrative liquor business with their own beer appropriately named…wait for
Well, well, I wonder what our resident CLB wearer Alyssa will have to say about these pieces of Louboutin purrfection. When I think of Louboutins, I think of classic, sassy, I-wish-I-had-a-pair pumps that can be worn to the office or on