I'm constantly impressed by the existing creativity in this world. From the genius inventions to the gorgeous artistry, it's rare that I go through a day where at least one thing doesn't completely blow my mind.
During grade school, lunchtime could pretty much make or break your day. If you stepped foot into the cafeteria to the smell of fish sticks and meatloaf, your day was going to suck. But pizza and chicken fingers day? You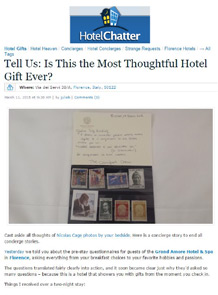 A pre-check-in questionnaire is just the beginning for our travel client, The Grand Amore Hotel and Spa in Florence, Italy. Journalist Julia Buckley's hospitality experience was made even more special thanks to the thoughtful efforts of the hotel's Comfort Crew.
Hello, my name is Jenna Llewellyn and I have a deep, gnawing addiction to Amazon Prime. I have my good days, which generally consist of a light order of Swiffer cloths, eyebrow tweezers, Columbian French Roast and a much-needed role
Step aside FitBit trackers and Nike Fuel bands, the fitness device of the future is here – and it's nestled nicely underneath your boobs. Yes, I said boobs and yes, that's where the tracker really lives. British design student Victoria
My dad has taught me a lot of things over the years. Whether it was practicing with me for hours to help me make the team, acting as a human cone when I was learning how to parallel park for
It's no secret that these days people (*cough* me *cough*) are all about the man bun. I mean, ALL. ABOUT. IT. There's even an Instagram handle dedicated to capturing all of the men out there rocking the trendy look as they