Deleting Food Off The Feed, To Feed
Image source AdWeek
Land O'Lakes, best known for their b-u-t-t-e-r, has launched a philanthropic campaign called "Delete to Feed" in partnership with Feeding America, a non-profit organization that aims to feed the nation's hungry through a large network of food banks. Land O'Lakes has pledged to donate 11 meals to those in need for every photo an individual actively removes from their Instagram account.
The logic is that countless people post over-the-top and indulgent photos of the meals they eat without taking the time to reflect on the millions of individuals living in a constant state of hunger in this country. Land O'Lakes gives the general public the option of going to the campaign's website, linking their Instagram account, and selecting one or more photos to which they'll say 'boy byeeee'! This initiative is set to run until mid-October or until 2.75 million meals are donated to Feeding America.
While it's always great to see companies getting creative with social good campaigns, it's hard not to play devil's advocate here. Upon going to the L.O.L. (ironic abbreviation) Instagram and Twitter pages it's clear that the company is still posting indulgent food photos themselves, with one of their latest posts celebrating "National Double Cheeseburger Day." If that's not excessive I don't know what is. It's definitely great that they're taking a stand against hunger in an a culturally relevant way, however, I fear many millennials in particular will not be super pumped about deleting the rainbow bagel they got 200+ likes on, just sayin.' All in all, I appreciate Land O'Lakes outside the box thinking, however, it's a classic case of "you better practice what you preach."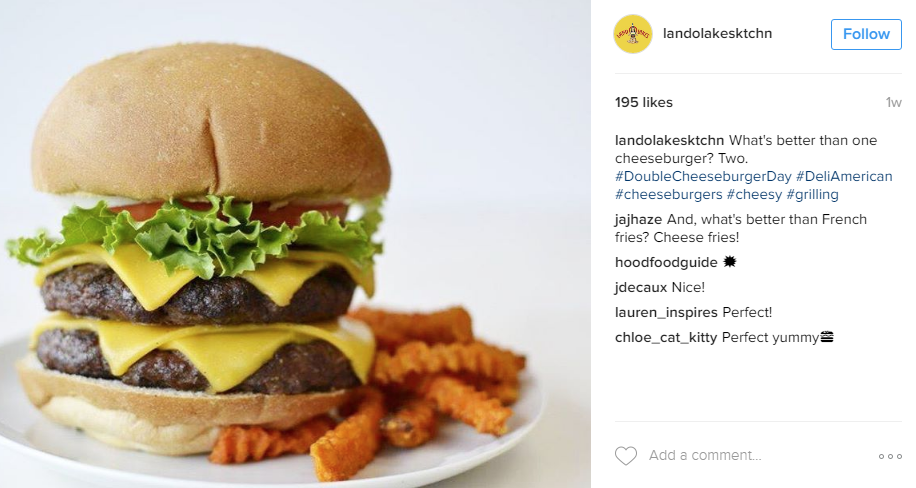 Image source @landolakesktchn Instagram
Posted by Anne.