40 Years of Love, Scandal, Sexiest Men Alive… and Taylor Swift
Image source People.com
People magazine turned 40 years old this year. And damn, she still looks good! I'm not up to speed when it comes to the best time-wasting activities like random iPhone apps, Reddit, etc., but I do have a guilty pleasure… and it's People. Five minutes to kill? Let's read about Sofia Vergara's workout regimen. My pop culture knowledge is embarrassingly good. I always have that Jeopardy category in the bag (who needs World Geography and Literature anyway?).
Of course People celebrates its birthday in a big way with oodles of fun like 40 Years Later: Headline Makers Then & Now, an infographic of the top 10 celebs with the most People magazine covers, a look at other stars that turned 40 this year (Posh Spice??? I feel old.), and Taylor Swift recreating the first issue ever with Mia Farrow on the cover.
If my love for celeb news is big, my love for all things 70's – 90's is even bigger. Combine the two and I find myself pouring over this timeline of past People cover pages, reminding us that in some ways, history tends to repeat itself. A few favorites include:
–          1977: Farrah Fawcett loves the "new" trend of jogging! I wonder if she would like today's Cross Fit/Pilates/Swinging from Ropes mash-up exercise.
–          1985: Mel Gibson is voted the Sexiest Man Alive. And now known as the sleaziest.
–          2000: "Britney Spears – Too Sexy, Too Soon?" Yes.
–          2007: Billy Ray Cyrus says of daughter Miley: "The biggest phenomenon in all this is that the kid's been able to keep her head on her shoulders. She hasn't flipped out. I'm going to knock on wood."  Let's all take a minute to let that one sink in……
Happy Birthday!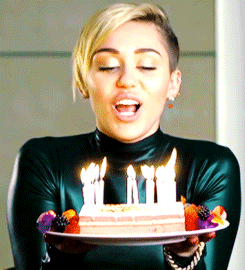 Image source rebloggy.com 
Posted by Amanda