Absolutely Fabulous, Darling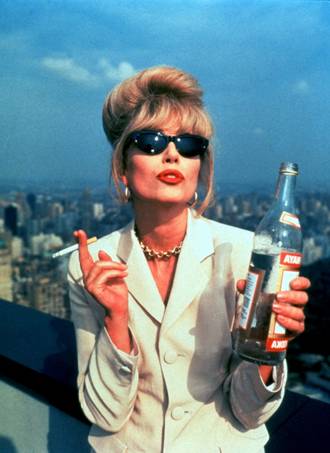 As a child I was exposed to some television that wasn't exactly age appropriate. Although this is most definitely the cause of my extreme potty mouth, I'm perfectly okay with it because I was able to experience small screen gems like Absolutely Fabulous.
While the humor may have been over my head at the time, that didn't stop me from laughing hysterically at all of Jennifer Saunders jokes. I idolized the crazy, 90's British fashion and every episode I watched was accompanied by a quirky outfit of my own. For those of you who aren't familiar with Absolutely Fabulous (aka Ab Fab), it's a British sitcom written by comedian Jennifer Saunders, who also stars in the show. Saunders' character, Eddie Monsoon, is an alcoholic, drug-abusing PR agent on an unwavering quest to keep up her young and "hip" appearance. Eddie's sidekick, magazine editor Patsy Stone, far surpasses Eddie in her hard partying ways, constantly encouraging Eddie to keep up. The duo's antics are periodically put in check by Eddie's high school aged daughter Saffron, one of the only stable characters on the show. Eddie and Patsy's dedication to reliving their glory days inevitably leads to catastrophe, leaving Saffron to pick up the pieces in the midst of quick-witted banter and uproariously funny plot lines.
I've recently realized this show is without a doubt what subconsciously inspired me to work in PR. In one episode Saffron (Saffie) asks her mother what it is she actually does…Eddie replies: "PR. I PR things. People. Places. Concepts…I make the fabulous…I make the crap into credible. I make the dull into…delicious." Ok, while it may not be an accurate description of public relations, I can definitely see how it could have been implanted as a fantasy future in my 10-year-old brain.
So, why you ask, am I digging this fabulous show out of the vaults? Rumor has it that three new episodes of the sitcom will be filmed this summer. I'm a little sad it's only three episodes, but I'll take what I can get. BBC better get rolling on this project soon because I can't wait to pop the "champas," turn on my TV, and have an absolutely fabulous time.
Posted by Alex
Like what you just read? Vote for m.blog as "Best Blog" in the Boston People's Choice Awards and ask your friends to do the same!
Posted By: netgain