A Strangely Awesome Intro Sequence
Image Source: EmpireOnline.com
It's been over a month since Season 3 of the Netflix megahit Stranger Things premiered, and I still can't get enough. I admittedly spent my Fourth of July binging the entire season in a single day, and I've watched just about every cast interview, read every behind-the-scenes article I can get my hands on, and laughed at the many great memes. On a recent day trip to Newburyport, MA, I even found myself keeping an eye out for Joe Keery (aka Steve Harrington), a NBPT native recently spotted back in town while filming the upcoming Ryan Reynolds flick Free Guy in Boston. Sadly, I didn't run into Joe and get the chance to greet him with "Ahoy!", but I'm still riding that ST3 fan train hard and probably will be until the next season gets officially confirmed.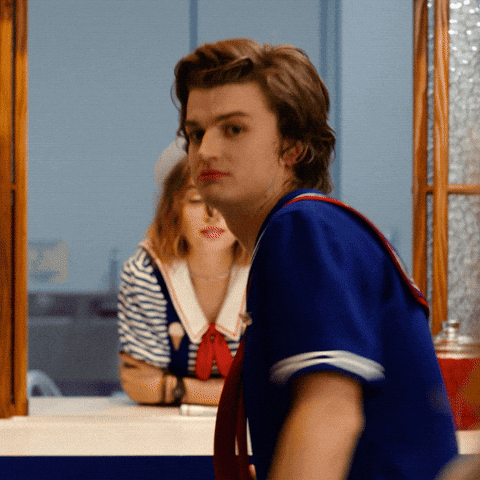 Like most Netflix junkies, I usually tend to reach all too quickly for that "Skip Intro" option when a show's opening title sequence begins. When watching Stranger Things, however, I find myself sitting through the entire opening sequence and actually enjoying it. There's something so perfect and mesmerizing about the way the letters eerily float into place, synced with the ominous synth music.
Who's behind this genius work of title-sequence art? None other than the incredibly talented folks at Imaginary Forces, a creative agency with an impressive roster of projects spanning film, TV shows, commercials, and more. IF worked with Stranger Things producer Shawn Levy and creators Matt and Ross Duffer to create an opening sequence that reflected the show's 1980's vibe and technology that would've been available at the time. The team incorporated things like film grain, imperfectly fuzzy edges, light leaks, lens flares and subtle camera shaking into the sequence, and used a combination of analog and digital production techniques to get an authentic look.
As a designer, I really love a good classic typeface, and I'm so drawn to the ST opening sequence because it focuses on the typography of the show's now iconic logo. Influenced by the look of 1980's book covers, the creative forces behind ST chose ITC Benguiat as the primary typeface, which they then modified ever so slightly to perfect it even more (the squish on the "G"s makes my designer heart flutter with joy). ITC Benguiat is a beautiful, versatile, awesomely retro typeface, and the best part…it's readily available to the masses on Adobe Fonts. So, of course I had to download it and create a spin-off logo of my own…
Here's to hoping if marlo marketing opens a new office location, it won't be in the Upside Down!
Posted by Brooke