A Technicolor Dream Tote
Image source Sydneyrogersland.com
I would consider myself a fan of futuristic fashion as long as it maintains a modicum of elegance and steers clear of the Judy Jetson aluminum lady look. I do adore the contemporary statement-making accessories that have been decorating the fashion world of late – from the gaudy baubles to the Lucite purses that give a slightly sexy and voyeuristic glimpse into the lives of the carrier. But today I discovered a whole new realm of flashy fashion that I just had to share: a tote for the techiest of Technicolor trendsetters.
Sydney Roger's Syro Tote is a whole new level of tech savvy for the iEverything iMasses and as long as you don't mind strangers blatantly staring at you while running errands, while at work, on trains, planes, and on your morning commute, this tote is for you. The possibilities for this delicious designer iPad tote are endless – uploading color swatches to match your outfit of the day, featuring your favorite abstract artists (Cy Twombly, for me, pretty please) on a running chronological stream. But with every new somewhat exhibitionist item there's always a downside and it's only a matter of time before celebs start selling digital ad space on their pretty purses and new moms start running slideshows of their bouncing bundles of joy on their bags. Ugh.
Although the versatile tote does come with a pretty steep price tag of $395 (alas, iPad not included), it's a fashion investment for sure, but with its buttery leather, clean lines and luxury TV stand capabilities, the only real downside is worrying about your bag's battery life. At the end of the day, think of it what you will, but I leave you with the visual of a bad-ass woman walking into a high-profile work meeting with a bag full of churning, boiling lava. Girl's gonna get $%&# done.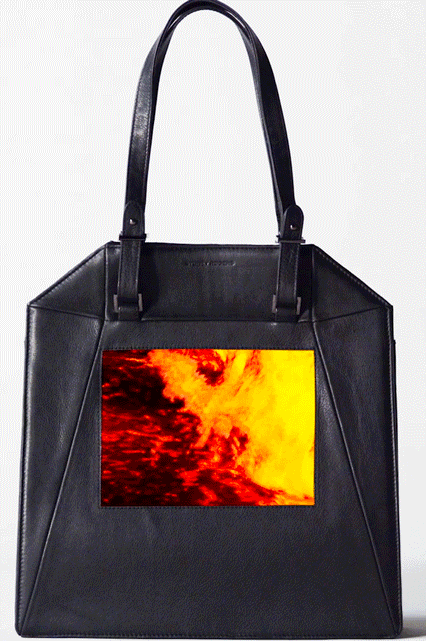 Image source Sydneyrogersland.com
Posted by Jenna