Aerie Keepin' it REAL (As Always)
Image Source: Aerie
As I was sitting on my T ride home the other night, one of my childhood best friends sent me a link to a newly-released bra on the Aerie website. Once I clicked on the link, I came to find that she wasn't just sending me this because she LOVED this new wireless, lightly lined bra, she was sending it because of the model. As I looked closer at the photo, I realized that the model is a Type 1 Diabetic, just like me, AND sporting the exact same insulin pump that I wear.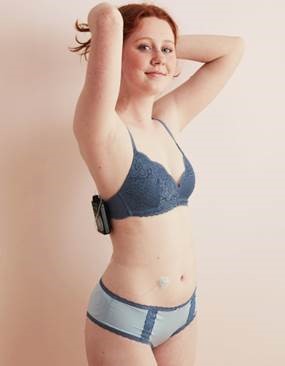 Image Source: Aerie
I can't begin to express the emotion that came over me when I saw photos of the model wearing her pump hooked onto her bra and with the excess tubing tucked into her underwear. Though I have never really thought twice about doing this everyday as I get dressed, I was hit with the realization that I'm not alone. Words can't describe how amazing it felt for my disease to be not only represented, but in a way celebrated, through these photos. I am fortunate to have grown up in a supportive environment that's embraced diabetes in all shapes and forms, between my 26-year-old Type 1 Diabetic brother that's had the disease since he was two, to the rest of my loving family and friends. Many with the disease, however, feel self-conscious about the visible pump sites, continuous glucose monitors, injections, etc. I am in awe and eternally grateful that Aerie has just created this everlasting role model and beacon of hope younger girls living with the disease.
Aerie's new line rolled out recently with no public announcement, only furthermore proving the authenticity of the campaign, and features a variety of women "including models in wheelchairs, with crutches, with visible illnesses, body hair, insulin pumps, vitiligo, Down Syndrome, colostomy bags, hearing aids and more," per Fashionista. Twitter blew up with joy over the featured models:
A cancer survivor, down syndrome paralympian, me, and fibromyalgia (+ body hair). Their work in chronic illness and disability representation this campaign was REAL and AMAZING.
(2/2) pic.twitter.com/J9LejjTaWU

— abby sams 🦈 (@abby__sams) July 10, 2018
@Aerie also had a gal with an Ostomy, Type 1 Diabetes, Vitiligo, arm crutches
(1/?) pic.twitter.com/H2LUUxQa4k

— abby sams 🦈 (@abby__sams) July 10, 2018
I am in awe of all the support I have received! 💙

Hello to all my new friends, I'm so happy you're here to join me on this journey! #aerieREAL

— Evelyn Robin Ann (@evie_ann_) July 11, 2018
I literally cried when I saw this today. Thank you @Aerie for making my daughter a little less self conscious about her diabetes #realpeople #tidlookslikeme pic.twitter.com/rPKr4nNFoY

— Jennifer Smith (@Mizz_j_smith) July 11, 2018
I've always been a fan of Aerie's no-retouching policy while showcasing models of all different sizes and ethnicities in their #AerieReal campaign, but this brand has really shattered the ceiling yet again! Thank you, Aerie, for bringing the world together, one extremely impactful campaign at a time.
Posted by Olivia