Airbnb-ers, Beware!
Image source YoureGonnaDieHere.com
Airbnb has had a good streak of victories lately, from winning a legal standoff in New York regarding customer privacy records to beefing up its app with new options to instantly book a place to stay that night or weekend.
But just one look at the new Tumblr "You're Gonna Die Here," which chronicles the creepiest, horror film-inspiring accommodations for rent on Airbnb, and its customers may high-tail it for the fuddy duddy comfort of Hotels.com.
Using images of forgotten basements, abandoned children's beds and makeshift outdoor lean-tos, the Tumblr's authors craft what they can only assume are the Airbnb host's descriptions of their overnight digs.
"The sofas are perfect for hiding under when I come looking for you. Let me know if you need more towels."
"This was the SAME CABOOSE where the bodies of the Boxcar children were found."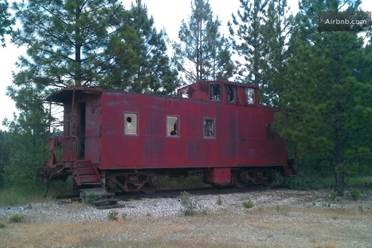 Image source YoureGonnaDieHere.com
"This WAS our daughter's room… until she stopped winning medals."
Image source YoureGonnaDieHere.com
Better sleep with one eye open…these rooms are to die for!
Posted by Michelle