Alexa… You're Freaking Us Out
Image Source: @GavinHightower
We all know Alexa as the helpful, extra smart robot we never knew we needed in our lives. Until lately, many loved the Amazon robot. Some have gotten so used to having her around she's become a regular part of daily work, home life and even conversation. However, Alexa users have recently reported not-so-welcome chatter from the previously beloved bot. Numerous reports of unprompted, creepy laughter have been announced. Some even describe Alexa's cackling as "witch like."
Amazon responded recently explaining that on occasion the Alexa software will mistake common words and phrases that sound similar, causing her to respond in unexpected ways. In a statement the company said "we're aware of this and working to fix it."
However, it seems Alexa isn't just chiming in with occasional, mistaken laughter. Other users have reported abrupt and unwelcome comments regarding random topics without any prompting.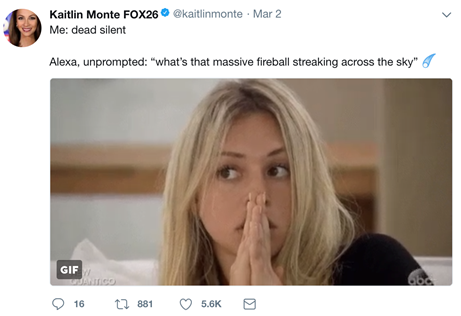 Image Source: @kaitlinmonte
Whether it's simply a mistake in the software or not, people are freaked out. These odd and sometimes startling responses from Alexa are reinforcing the idea that she really is always listening, whether she responds at the time you expect her to or not. Big Brother, much? Here's hoping Amazon figures this software malfunction out soon otherwise some users might decide it's time to call it quits on their relationship with Alexa and stick with cackle-free Siri!
Posted by Victoria