All of the Halloween Costume Inspiration You Need… In Only Three Minutes
Image source YouTube
I am definitely a Halloween fanatic, and would totally consider it to be my favorite holiday. Except each year I always struggle to find a costume that is both unique, comical and won't completely break the bank to pull off so Christmas (gifts!) still takes the cake.
So for those of you like myself who are in need of some wicked inspiration, look no further than the latest installment of Mode 100 Years of Fashion. In the most recent episode, they explore Halloween costumes in "100 Years of Halloween Costumes in 3 Minutes."
[youtube http://www.youtube.com/watch?v=Bia9Yppa0B4]
Video source YouTube
The video begins in 1915 where we can see paper mache masks were all the style, and the purpose of Halloween was to actually look scary…funny how times have changed.  But the video does provide some inspiration and a few looks I haven't thought of yet.
Maybe the 1950's Wild West approach?
Or even circa 2005, channeling the queen of Pop Britney Spears?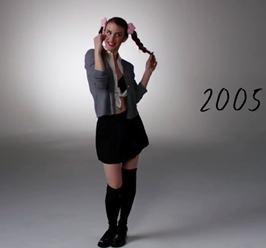 Image source YouTube
Whichever costume we all choose to own on the night of the 31st, let's all promise to avoid what Mode predicts will be the 2015 costume of choice, Kim Kardashian's Internet-breaking pose. We can do so much better than that, 2015!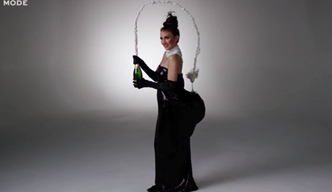 Image source YouTube
Posted by Allison S.