Another Bay-bay for Beyon-cé?
Image source Asos.com
Whether you like it or not, Beyoncé is one of the most private celebrities in the limelight. While us commoners spend hours watching her music videos trying to perfect her Single Ladies dance and hold our breath as she goes on an Instagram binge, she is unlike many celebrities. Not only does she not follow anyone on social media, but she always has a veil of mystery that we could only dream of uncovering.
Think for a minute. Do you KNOW Beyoncé?  Besides the suggestion that Jay may or may not call her "Peaches" when they get nasty and she seems to love traveling and flash tattoos, we don't reaaaaally know her personal traits. YES she has a badass women-run-the-world attitude, but how is she in real life? These are things we may never know.
One mystery about Beyoncé that will continue to haunt and puzzle me is pregnancy. I would love to believe that she actually carried baby Blue, but this video (to me) says otherwise.
In addition, on Thursday Jan 11th, Bey took to Instagram puzzling us AGAIN with this photo: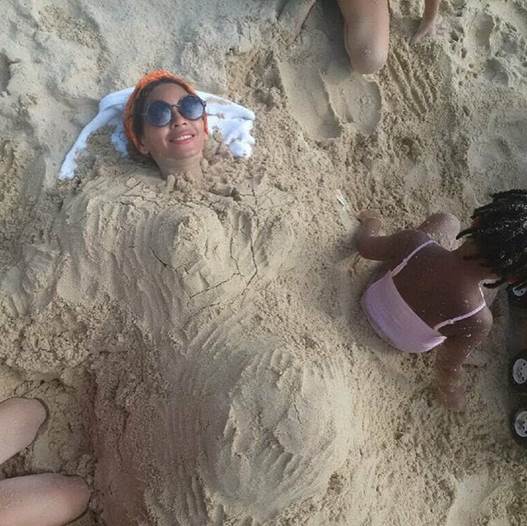 Image source Instagram
You see that belly right there? Does that or does that NOT look like a belly of a preggers Bey?! Beyonce doesn't even have the decency to grace her 23.9 million followers with a caption like "Blue gonna be a big sis!" or "Just kidding! *insert bee emoji*." Instead, she's keeping it under lock, which doesn't surprise me. I guess we will have to wait it out and see… *sigh*
Posted by Emily