Around the World in Food
Image source cutestfood.com
Confession: I have the artistic prowess of an embryo.
I also am not someone who can spend hours upon hours in museums. Don't get me wrong, I love art of all kinds but I am much more apt to visit an exhibit, check out the work and move on. I don't ponder what the artist was thinking or what emotions he/she was looking to provoke; if I like it I smile and walk on, if I don't I probably make a face or (depending who I am with) make an inappropriate comment. In recent memory, the only artist to move me enough to even research him/buy something is Tom Wesselmann whose Pop art exhibit at the Musee des Beaux-Arts Montreal had me talking for days (sorry, mom)!
I recently stumbled upon another series that got me daydreaming, probably part travel wanderlust, part hunger (stupid bikini body diet) and part "I am so over this Boston winter crap." New Zealand-based artist Henry Hargreaves and New York-based stylist Caitlin Levin worked together to create maps made of food– particularly culturally/geographically relevant foods for each country. Some of my favorites are: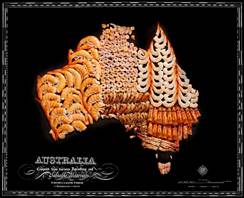 "Throw another shrimp on the barbie!"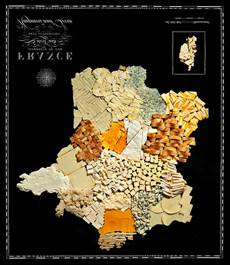 "Ajouter a du vin, et voila!"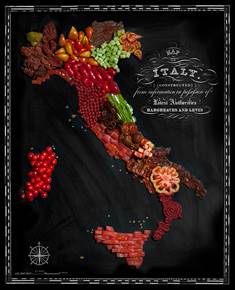 "Questi pomodori sono belli!"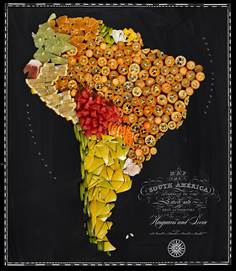 "Eu preferiria estar a beber uma caipirinha nas praias de Copacabana"
I'm off to daydream of my next exotic vacation destination (New Zealand is looking particularly delicious right now), in the meantime, check out a video of the making of Henry and Caitlin's food maps here.
Posted by Miranda