Art is Dead. Jeans are Alive.
Image source FineArtConnoisseur.com
Three years ago I dumped my long-term, all-access cable TV subscription for not one, but two much younger and instantly gratifying streaming video sites – Netflix and Amazon Prime, and let me tell you, the three of us have never been happier. I'd be lying if I said I didn't miss the monotonous channel surfing, bad reality TV marathons and educational PBS programs of my previous Comcast relationship, but I must admit, what I really miss the most are commercials. Now, I'm not talking your terrible local cable furniture warehouse screaming sessions or your Bob-O-Pedic Mattress Master reruns, I'm referring to the rare and elusive commercial that leaves you cackling on the couch while you forward the YouTube link to your friends.
This year's most masterful commercial series award goes to none other than Old Navy, which has finally dropped their colorful kiddy-pandering, family focused shtick and brought out the big guns: the tiny, blonde, comedic genius that is Amy Poehler. Each one of Old Navy's 40 second commercials star Amy playing hysterically well-stereotyped roles such as a hippy-dippy spa concierge, bitchy restaurant hostess, neurotic lawyer, Judge Judy-esqe Judge, and my all-time favorite, a pretentious gallery owner, that from my past experience as a contemporary art gallery docent was so spot on it left me in hysterics.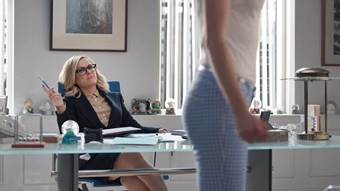 Image source DailyMail.com
Not only is the SNL-esque repartee pure comedic gold, but each and every clip includes multiple borderline-gratuitous shots of the model's very well-shaped derrière, that to be honest, actually make me want to go out and buy $19 Old Navy pants (coming from a person that has mild panic attacks in big-box department stores this is quite a feat). Well done, Old Navy, well done.
Posted by Jenna