Ask What Your ManServant Can Do For You
Image source ManServants
Before we discuss anything, watch this video, preferably with all your girlfriends. Go ahead, I'll wait.
This video is a thing of beauty. Whether you think this service is entirely feminist, or you think it's sexist, feminazi or just plain stupid, you probably laughed at least once.  If you're at work and are convinced this is some sort of sex service and didn't watch the video, some highlights include shots of a bodyguard-type ManServant pushing a baby stroller in a suit while holding a parasol to shield his lady from the sun and a gay couple watching a hunky #bae do pushups (this service does not discriminate; anyone who appreciates a sexy man going out of his way to make your life easier everyone is welcome to enjoy).
Ladies (and gents), welcome to ManServants.com, a service designed to wean women off the unfortunate bachelorette traditions of sweaty male strippers and penis straws and direct them towards a more fulfilling and enjoyable experience that leaves the lucky lady feeling pampered (and respected). Whether you're planning a party, trying to find the perfect gift for your BFF of life who has listened to you b*tch about your ex for way too long, or just looking to treat yo self., ManServant is for you.
Basically, the site lets you rent out beautiful men by the hour to fulfill your every fantasy. Well, most of your fantasies (we assume NSFW requests will not be honored). You can customize your hunk by choosing his name, what he will wear (go big or go home and request a tuxedo, amirite ladies!?), his accent ('ello luv) and his even his "type." Personally, I'm torn between a scotch-swilling, mysterious and slightly dangerous James Bond type and an all-American blonde who loves his mom, owns a Golden Retriever and takes us sailing, but I'm not picky…
Regardless of your type, all ManServants are trained to follow the Man Servants Code of Chivalry "to ensure he treats you like a queen." I think this Code should be distributed for free at every bar in the metropolitan area, but I digress.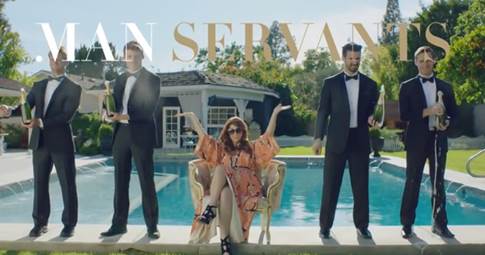 Image Source CityLab
Sadly, ManServants are currently only available in the San Francisco/Bay area, LA or Palm Springs and the Gansevoort Hotels in NYC (marlo field trip…?), but if you're lucky enough to live in those areas, you can have your very own ManServant for around $125 an hour. For the rest of us, however, all is not lost. ManServants recently launched two new digital services that are available to all: the ManGram (a highly personalized video compliment delivered by a gorgeous man), and #INSTALOVER (a ManServant will "like" and comment on your Instagram for 30 days, showering your posts with adoration).
I probably should say more, or open up some sort of controversial dialogue about the feminist versus over-corrective connotations of this premise, but I just don't have the heart to say anything negative about a service that provides you with insanely, unbelievably, hurtfully beautiful men who just want to bring you champagne and tell you how much they appreciate your sense of humor. Sue me.
Posted by Sophie