We Should All Aspire to Be Like Drake
Image Source: Instagram, Instagram
For those who have yet to see it, a video went viral late last year of world-famous rapper Drake calling out a man in the crowd for groping women. The move was met with praise both from the audience and on social media, as recent discussions of sexual harassment remain extremely prevalent.
As if we needed another reason to love Drake, the rapper recently swung by a Sabor Tropical Supermarket in Miami and offered to pay for every shoppers' groceries, dropping around $50,000 in total.
According to E! News, Drake announced via megaphone that he promised to cover everyone's groceries in the store and proceeded to pose with some very surprised and excited fans.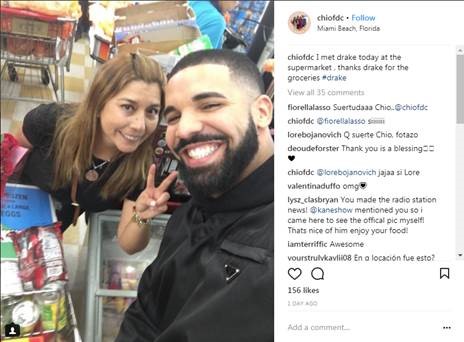 Image Source: Instagram, Instagram
His good deeds didn't stop there, either. The singer also stopped by the Lotus House Women's Shelter in Miami with a $50,000 check.
Sure, he has the money. But to set any example of giving back in this time of need is HUGE. is HUGE.
Never change, Drake!
Posted by Katie