Attention All Animal Lovers: It's Time To Book a Trip
If you know me, you know I'm a huge animal lover. So, as far as I'm concerned, a vacation with a bunch of cute animals really couldn't sound any better. I recently discovered the sheer number of hotels and resorts with resident animals on-site (thanks, Vogue) and let's just say, I'm ready for a weekend getaway.
Ever heard of an in-house Director of Pet Relations? Well, the Kimpton Monaco Portland has one named Addison – AKA the sweetest Goldendoodle you've ever seen. To make things even better, according to Vogue, "if you bring your own pup along, the hotel can loan pet beds, bowls, and mats and encourages guests to bring their pets to the nightly wine reception."
Not convinced yet? Need a full blown animal family? Acre Baja, an all-inclusive, adults-only resort in Mexico has one on-site. Made up of peacocks, roosters, Nigerian dwarf goats, dogs and a donkey named Burrito, this family is ready for new visitors and is ready to welcome you, in exchange for some love and attention, of course.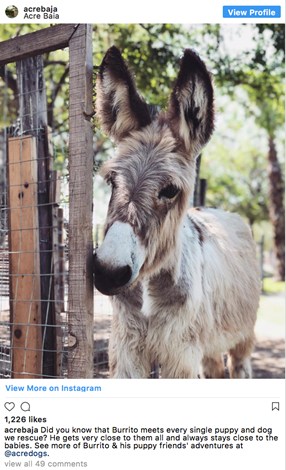 Image Source:  Instagram via @AcreBaja
I don't know about you, but this is a trend I can get behind. A beautiful hotel AND adorable animals in-residence?! I'm ready to check in!
Posted by Victoria