Attention all Dunder Mifflinites
Source: Twitter
2017 has been the year of revivals. Beauty and the Beast gained widespread popularity, Pennywise the Clown came back to haunt us in It, and Sabrina the Teenage Witch is rumored to be getting a reboot. NBC also recently revealed their plans to bring back the beloved series, The Office, and while this is exciting to some, many people don't think a return to the Scranton-based paper company is necessary.
While the deal hasn't been officially made, NBC's consideration for a 10th season has garnered a HUGE response on social media. Understandably so, since the show ran for 201 episodes and is one of the network's highest rated series to this day. But rumors that the return will feature both original and new characters have fans are wondering if it will even be worth it.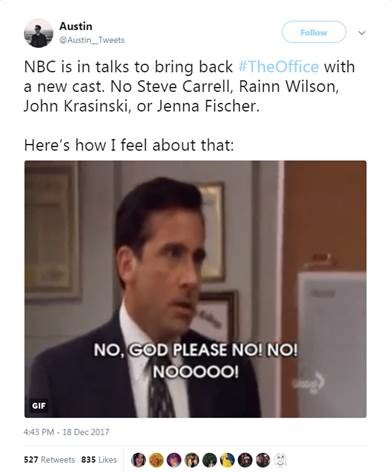 Source: Twitter
Needless to say, some fans are psyched about the potential of seeing Jim and Pam's relationship goals and Dwight's hilarious roleplaying. But will they even agree to returning? Most of the actors have become insanely famous movie stars since then, or have TV shows of their own! Also, according The Hollywood Reporter, Steve Carrell is definitely not coming back. And what's Dunder Mifflin without Michael Scott??????
Can't wait to see what ends up reviving in 2018!
Posted by Katie