Baby (Giraffe) Szn
Image Source abc7NY
I don't know about you, but I've been waiting with bated breath for April the Giraffe to give birth for approximately two weeks now. April calls Animal Adventure Park in Harpursville, NY home, and it is there that she was bred with a Giraffe 10 years her junior, Oliver. Giraffes can be pregnant for anywhere from 13-15 months; April is at the end of her 15 months and is ready to pop at any time, as the tens of thousands of people watching her "giraffe cam" can attest!
Another third-trimester expectant momma decided to show the world her own take on the live feed of April. Two weeks ago, Erin Deitrich posted a funny livestream video with a giraffe mask on, belly on display. She was never expecting the video to go viral – it was just a joke with her and her friends since she loved watching April's live feed and she was also pregnant. Well, Deitrich beat April to the punch and had her baby first — and of course she had to do an April-style video from the delivery room.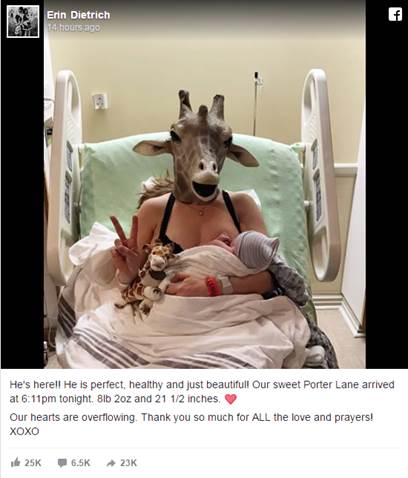 Image Source Mashable
I'm happy for the new momma, and I hope for April's sake, she follows suit soon!
Posted by Jen