Bathing in Beer
Image Source: Facebook
Rub-a-dub-dub, there's beer in that tub! Beer lovers rejoice: now you can drink your beer and bathe in it, too! The Bjórböðin beer spa on the Northern edge of Iceland features nine Kambala wood beer bathtubs (seven indoors and two outdoors) and they're not just for IPA fanatics who regularly dream of climbing into a pint; apparently soaking in beer has health benefits.
"Beer bath, where you bathe in both young beer and live beer yeast heated to 100 degrees, without showering it off until some hours later, has an extremely powerful effect on the body and skin," the spa's website claims. "This treatment cleanses the skin and has a very positive effect on your overall health."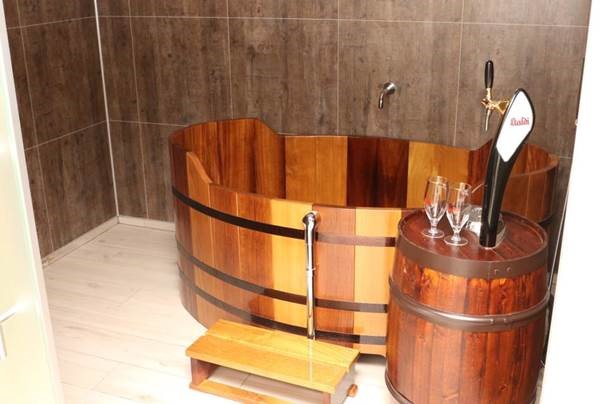 Image Source: Facebook
You can't drink the beer in which you are soaking—that would be very, very gross and, also, the live yeast in the beer bath is not good for your insides—but each tub is equipped with a separate tap, so you can fill up your stein and enjoy a brew while relaxing in a brew – would that be considered a double IPA then?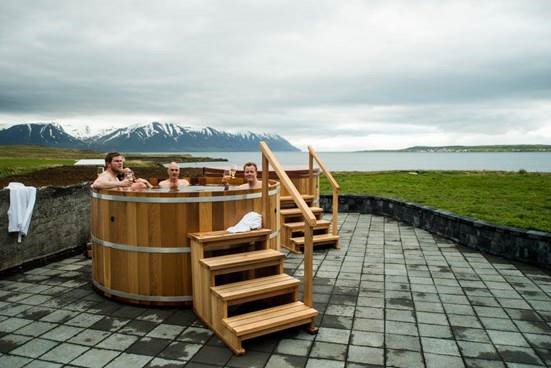 Image Source: Facebook
To get the full boozy effect, guests are supposed to sit in the bath for about 25 minutes at a time, then relax for another 25 minutes in a designated "relaxation room," so that the skin can absorb the concoction. After that, comes the shower.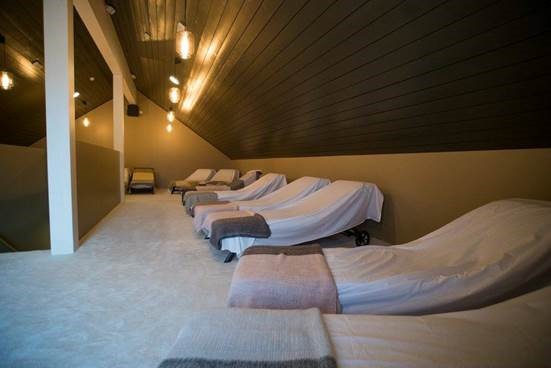 Image Source: Facebook
And instead of cucumber water and oil-free salads, the restaurant at the spa serves beer-appropriate foods like deep fried camembert, charcuterie and a variety of burgers, so you can satisfy your munchies after a hard day of floating. Bjórböðin isn't the first place to offer an alcoholic health experience. Japanese sake pools and gin-inspired spa treatments are making waves around the world as people are seeking increasingly unique (and happy hour-friendly) ways to unwind, relax and retreat from life's stresses.
Posted by Rebecca