Black Tap NYC's Milkshakes Bring All The Boys (And Girls) To The Yard
WARNING: The images you are about to see may induce excessive drooling and incite the purchase of a one-way ticket to NYC.
Enter -> Black Tap Craft Burgers & Beer, a New York City-based restaurant, with locations in SoHo and the Meatpacking District. While the restaurant opened in March 2015, the chain has recently gone viral due to their over the top, unbelievable, milkshake concoctions.
While your typical shake may sprinkle in some cookie crumbs, brownie bites, or simple chocolate syrup, Black Tap adds a full-on dessert on top of the shake itself. A piece of cake? An ice cream sandwich? A caramel apple? Pick your poison.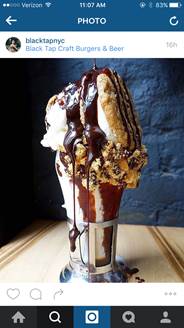 Image Source Instagram
Utilizing the power of Instagram, Black Tap has amassed 64K followers and counting and is the new "It" place in NYC. Hordes of insta-addicts and dessert connoisseurs are flocking to get their sweet fix and a guaranteed 100+ like post. Talk about the perfect storm!
As Black Tap has demonstrated, the power of presentation goes a long way, and image-centric apps like Instagram are giving restaurants the ability to flaunt their unique products and reach consumers across the globe. Let's face it, people are no longer just looking for the best food out there (even though Black Tap has my vote), they are choosing restaurants based on the social capital it carries, as well as the potential it has for social sharing.
Needless to say, Black Tap is at the top of my list the next time I'm in NYC, and I can guarantee you I'll be sharing my milkshake with my followers — just not with any of my friends. Excessive calories for excessive likes is well worth it in my book!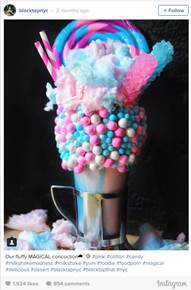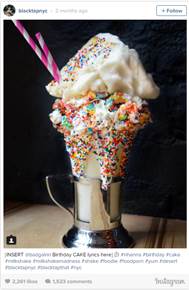 Image Source Instagram
Posted by Anne