Blanket Coats….formally known as the Snuggie
Image source Vogue.com
I'm pretty much a sucker for fashion trends. While I try to keep the essential classic items in my wardrobe, you'll also find the sneaker wedge, a lot of faux fur, double-fingered rings and an assortment of other fleeting "must-haves" from the past few years. However, there are times when I simply have to put my foot down.
A recent example I've been seeing this fall is the Blanket Coat….seen here on SJP in a monogrammed Burberry rendition.
Now I know ponchos have been on the map for ages (and they're great), but these daper duvets are too much. I just can't get into the idea of draping a blanket across my shoulders and calling it couture! Mostly I'm drawing a (slightly unreasonable) parallel to a ridiculous trend from about six years ago. Do we all remember that infomercial sensation that had people in stitches? That's right, I'm talking about the infamously celebrated Snuggie.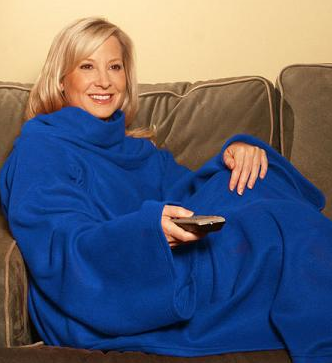 Image source Asseenontvus.com
Oh yes, the Snuggie. The wearable blanket. Looks like it's back and, this time, it's got some A-list endorsers.
Posted by Iman