Blurry Pictures, Blurry Memories
Image source Pinterest 
Polaroid cameras used to be the coolest thing since sliced bread. My friends and I would have sleepovers and snap millions of photos of each other and, with the shake of a hand, a blurry photo would emerge (magic!). We'd scribble our names on the bottom and tape them to our bedroom walls (sorry again about the paint, Mom!!). Polaroid photos are now considered "vintage." I feel old.
Polaroid recognized that our sleepovers no longer entail sleeping bags, ice cream sundaes and truth or dare and that we are now grown adults. Our sleepovers now entail drinking until we pass out on our friends' couches because our sober ride was heading home and we didn't want to leave. While cameras are gathering dust in our parent's attics due to iPhones and Androids, the camera company is still staying relevant to us crazy Millennials. How? With a new 2-in-1 camera and shot glass. Genius.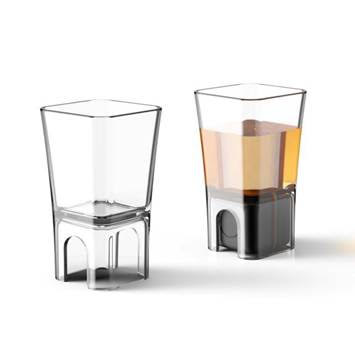 Image source foodandwine.com
For only $15 (what a bargain!) you can own your very only Shot Glass Mount. Just add booze and a cube and you have the recipe for the best sleepover ever. Sounds great, but how functional is this creation? Do I take the shot first, then a photo of my scrunched up face post-shot? Do I take a photo of people watching me take a shot? I'm guessing the result of this is just a bunch of drunken blurry photos, but then again, that's what Polaroid cameras were meant to capture. Cheers!
Posted by Christina B.