Booze Trends
Image source: Anti-E.com
I don't discriminate against alcohol. Wine, vodka, beer, cider, tequila…I'm cool with them all. However, I have to draw the line at three of recent booze trends, which include anti-aging liquor, fog-infused vodka and whale vomit beer. I'm all about respecting the environment and endangered species and want to keep myself wrinkle-free for as long as possible, but these bullsh*t gimmicks are just TOO MUCH.
Anti-Aging Liquor
In case you're not a gin fan and don't want to defeat the hands of time while sipping on Anti-aGin (ok, the name is cute), you can now opt for AntiEverything, the 16% ABV vodka claiming to be a "beauty drink." According to the founder, AntiEverything was "developed by a beauty conscious biotechnologist with a zest for life" and features luxe ingredients like collagen and seakbuckthorn. As much as I love a good beauty product and a good cocktail, I think I'll be keeping the two separate for now, thank you very much.
Fog-Infused Vodka
While FogQuest – the makers behind Hangar 1 Fog Point Vodka – are on a respectable mission to find sustainable water solutions, harnessing the power of San Francisco's fog to create $125 bottles of vodka seems like a bit of a stretch. Although, I suppose if you're going to donate to the cause, with all profits of the vodka going towards water conservation, you might as well do so in a tax-deductible liquid form.

Image source: ReserveBar.com
Whale Vomit Beer
Now for the most egregious trend of late: craft beer featuring ambergris, more crudely known as whale vomit. Thankfully, for the time being this trend is contained to Australia in the form of Moby Dick Ambergris Ale. Despite the fact that ambergris can fetch a pretty penny because it increases perfume's staying power – $63k/pound to be exact – the fact that, according to co-brewer Kristi Biezaitis, "it tastes a little bit like the sea, it tastes a little bit like marine animals" means that the only ambergris coming near me will be in the form of Chanel No. 5.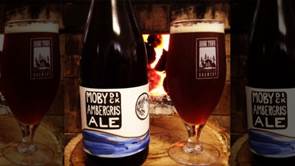 Image source: FoxNews.com
Posted by Amanda.