Botox or Bust (or Both?)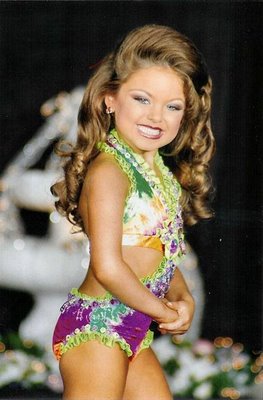 For those of you who enjoy painfully horrible TV (think Hoarders and Teen Mom), I'm really hoping you've seen Toddlers & Tiaras.  From my experience, the TLC show follows fat moms from Middle America and their pre-pubescent daughters around the country as the real-life baby Barbie Dolls compete for a synthetic sash and bejeweled crown in a sleazy hotel ballroom. In my expert opinion, it's the crème-de-la-crème of reality TV.
I can't tell if the desperate mothers who live vicariously through their daughters are complete lunatics, or if they have an untapped knack for makeup & styling that they're hoping to cash in on. But if you take a look at the before and after photos of these girls, they are truly incredible (and not necessarily in the positive meaning of the word). I had always attributed the mini beauty queens' eerily clear, smooth skin to the fact that none of them have hit puberty yet, so the words "pimple," "wrinkle" and "whitehead" haven't yet graced their vocabulary. Oh, boy was I wrong!
Kerry Campbell, famed pageant mom, likes to ensure her 8 year old daughter's everlasting youth by injecting botox into her face, you know, to keep up with the competition. At least she has her daughter's best interest at heart, telling The Sun: "What I am doing for Britney now will help her become a star. I know one day she will be a model, actress or singer, and having these treatments now will ensure she stays looking younger and baby-faced longer." (When that girl discovers the wonder of alcohol, which given this mother will probably be soon, she is going to hate her mom for that baby face!)
Britney's future plans include breast implants; I think it's obvious there will be no issues getting the parent consent form signed. I remember getting furious with my mom because I wasn't allowed to have pierced ears until I was 10. Then again, I don't think my mom ever told someone "I'd rather she be perfect and have a little frozen face." Thanks mom!
Posted by Hannah
Posted By: netgain