Brace Yourselves: Football Season Is Here
Image source 365thingsaustin.com
I've become a big fan of football season. Not necessarily the sport of football, but football season itself. More specifically, I'm a fan of Sundays during football season, where it suddenly becomes perfectly acceptable to start drinking beer at noon and eat fried and/or cheesy food all day. Now that's something I can get behind on a weekly basis!
However, I am admittedly not the most knowledgeable when it comes to the fundamentals of football. I grew up with two sisters and went to a college without a football team. Sure, I watched NFL games during college, but lest you forget, I was in it for the social aspect.  This year, I think I actually have a good handle on the game and I'm looking forward to testing my newfound knowledge. Not going to lie, I attribute everything I now know about football to this summer's 'Friday Night Lights' Netflix binge. (Texas Forever.)
And then there's Fantasy Football. While I'm not ready to get behind this aspect of football season, I can appreciate the time and dedication people put into this. In the past week, a friend of mine spent over 10 hours at fantasy drafts for his four different fantasy leagues. Is he nuts? 100% percent, but you have to admire his commitment…Maybe?
Somehow along the way, Fantasy Football became more than just some geeky thing guys do and is now a respectable, mainstream staple. Right now, the first result for the Google search "Fantasy Football" is a New York Times piece entitled "Fantasy Football: Week 1 Matchup Breakdown," written by Jason and Justin Sablich, the Times' fantasy football experts. Yes, the freaking New York Times employs fantasy football experts.
While everyone else is stressing about their fantasy matchups, I'll just be here with my beer and calorie-laden eats, watching what really matters: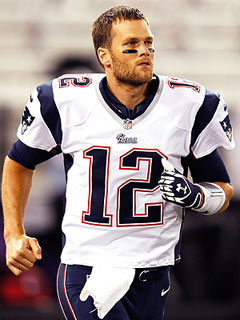 Image source people.com
So brace yourselves folks, football is here. Cheers to 17 weeks of fun.!
Posted by Tracy