The Bradys Are Just Like Us
Image Source: Hollywood Life
Well, maybe not JUST like us. The man of the house does have five Super Bowl rings and is the greatest quarterback of all time. The woman of the house is a supermodel. They are millionaires. And gorgeous.
All that aside, this past week we got a pretty cool glimpse of the (New England) first family acting as mere mortals and — for a split second — we all felt a little bit better about ourselves.
I am not talking about Gisele's dramatic reaction to her husband's win. That was pretty amazing,  though.
I am talking about all of the boogers (the Brady children boogers, that is) that took the internet by storm.
Sweet Vivian Lake digging for gold.
She is really going to be bummed about that when she is older.
And even her brother gets boogies. But there is her dad, not the GOAT, not the Michael Jordan of Football, not Tom Brady, but just a regular 'ole guy being a dad and wiping his son's snot.
Image Source: Twitter
For a few moments last week we realized that,  in fact, the Bradys are humans and not just these ridiculously talented, good-looking, wealthy people. Just a few moments, though, because surely no one can relate to this: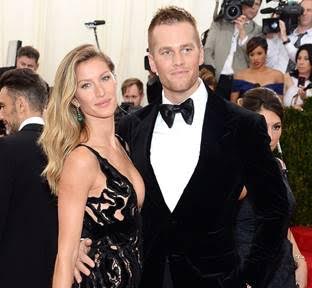 Image Source: UsMagazine.com
Posted by Meghan McCarrick