Buh-Bye Haters
Unless you've been living under a rock, you've probably heard that Serena Williams slayed at the Wimbledon tennis tournament recently. At the age of 33, she has just won her sixth Wimbledon title and the 21st grand slam of her baller career (SLAY Serena SLAY). But naturally someone had to rain on her fabulous, girl power parade. Following a New York Times article focused on female body image, the twittersphere blew up in a debate over Serena's body type and how manly it is or is not. Don't worry though, J.K. Rowling shut the haters down.
Following Serena's big win, Rowling posted a picture on Twitter saying, "I'm #TeamSerena today, because you don't meet many super talented people nicer than she is. Go @serenawilliams!"In response to Rowling's tweet someone threw some major shade at Serena when he tweeted, "ironic then that main reason for her success is that she is built like a man." …Salty. *Cue Rowling to the rescue* Rowling then proceeded to tweet back a picture of Serena looking drop dead gorgeous in a tight red dress and said, "'she is built like a man' Yeah, my husband looks just like this in a dress. You're an idiot."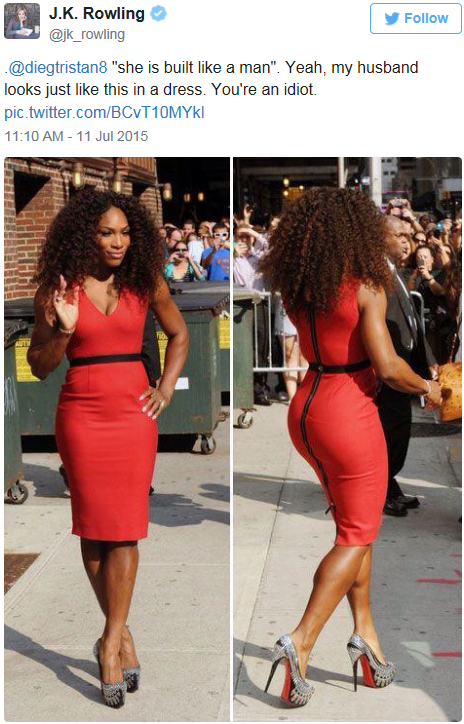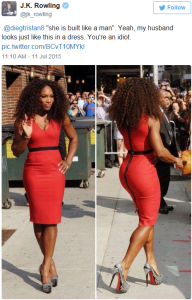 All Image source ABC News
If you have an issue with Serena, whether with her success or her looks, I'll kindly tell you to pack it up and move out…and so, apparently, will J.K. Rowling.  She's strong, she's beautiful and she's a positive role model in a world full of Kardashian crap.
Posted by Bella & Tracy