Burger Battle
Though it's been a long time since I've consumed McDonald's outside of a Greyhound heading either to or from New York City, I will fully admit that when it comes to the fast food giants, I side in favor of the golden arches. Wendy's logo and décor always kind of creeped me out (so. red.) and to be honest, a microwaved baked potato topped with fast food chili sounds more like a marketing stunt by Pepto Bismol than a tasty treat. As for Burger King, my young, five-year-old consumer mind was put off by seeing royalty relegated to fast food. Kings (and Queens, Princes, and Princesses) belong in dreamy Disney movies. Not around burgers and room temp onion rings.
Despite my relative indifference, I had to tip my hat to BK when I heard they approached McDonald's and suggested the two team up to create a Big Mac/Whopper frankenburger in honor of World Peace Day. This, my friends, can only be described as a masterful PR move on the King's part. Even if McD's said no (which they did, obvs), BK now appears to be the more creative (and peace-loving?) of the two.
The story quickly went viral, and even though the mash-up didn't officially go down, I'd be willing to bet that there were a number of novice chefs around the country trying to make it happen. Lucky for us, one of these chefs works at AdWeek and chronicled his attempt to go where no international fast food chain had gone before.
The result? McD's was right not to go there. Between an excess of low-quality meat and a surplus of Special Sauce™, the McWhopper was way worse than the average fast food burger. There was however, a light at the end of the tunnel: mixing BK's Chicken Fries with McD's regular fries yielded a pretty tasty result. There's hope for peace after all!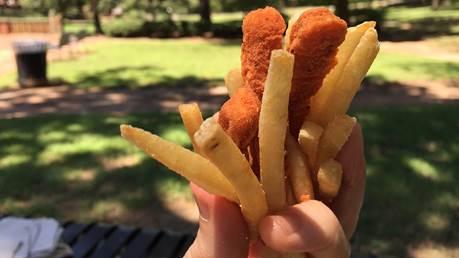 All images source Adweek
 Posted by Erin K