Cafeteria Chronicles: School Lunches from Around the World
During grade school, lunchtime could pretty much make or break your day. If you stepped foot into the cafeteria to the smell of fish sticks and meatloaf, your day was going to suck. But pizza and chicken fingers day? You were #blessed! I vividly remember the day my high school got rid of candy, soda and chips; it was met with outrage and 15 year olds undergoing serious sugar withdrawals. It was THAT important to us.
While America has been going through some sort of a healthy eating revolution (Thanks Michelle Obama), that's not to say that school lunches have improved at all. The chicken fingers became baked instead of fried, the pizza was made on a whole wheat crust, and the green beans… well… they still looked limp and tasted like a stale freezer. Which begs the question, were all these changes in school menus actually making a difference?
Well, a write up on The Huffington Post details school lunches from around the world. And to be frank, it's like comparing McDonald's to a meal prepared by a James Beard Award recipient. There is absolutely no comparison.
First, let's start with the typical school lunch in the U.S.:


Image source The Huffington Post
Seems about right. Gray-ish chicken nuggets, a dollop of mashed potatoes that surely came out of a large tinfoil pan, and a mysterious fruit cup in which nobody can be too sure which fruit you're actually eating under all that sticky juice. Not to mention a chocolate chip cookie that definitely doesn't taste like grandma made it.
Now, moving on to France: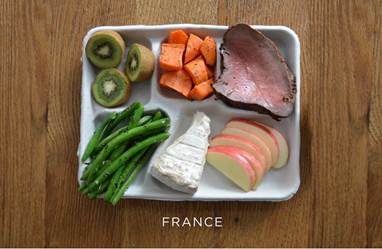 Image source The Huffington Post
A whole steak? While I definitely wouldn't trust American cafeteria steak, this one looks legit! And what would be a French meal without cheese? What would be ANY meal without cheese, in my humble opinion. Nice to see some other countries getting fresh cut fruit and veggies. Must be nice!
Next up is Greece: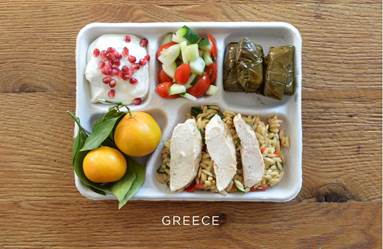 Image source The Huffington Post
It wouldn't be Greece without Greek yogurt, am I right? Topped with fresh pomegranate, this looks better than my morning Chobani by far. Baked chicken and orzo, tomato and cucumber salad, stuffed grape leaves… can all this truly be made by the lunch ladies?!
Lastly, the country of my favorite food, Italy:


Image source The Huffington Post
Fish on a bed of fresh arugula, caprese salad, pasta… is this an everyday lunch for Italian kids?! Because truly this would be a solid Italian meal I have on Friday nights in the North End.
But all jokes aside, the U.S. needs to step up its game when it comes to our school lunches. I think it's safe to say these pictures speak volumes. Another negative of this school lunch comparison exercise? My leftover (read: soggy) salad is seeming less and less appealing by the minute…
Posted by Carli