Cards Against Humanity: Raunchy, Dirty and Socially Acceptable
Now that I've entered my twenties, I feel like it's time to stop playing Pretty Pretty Princess, Candyland and Girl Talk. While these games are still fun, Cards Against Humanity is a game that makes me feel like an adult and gives me something to play with people who are potty trained (to the kids I babysit: I still love playing with you!). Originally funded with a Kickstarter campaign a couple of years ago, Cards Against Humanity is the "party game for horrible people." Similar to Apples to Apples, this game's raunchy content and wordage is aimed at – shall we say – a more mature audience.
"To start the game, each player draws ten white "answer" cards. One randomly chosen player begins as the Card Czar, and plays a black "question" card. The Card Czar reads the question out to the group. Each player answers the question by passing one white "answer" card, face down, to the Card Czar. The Card Czar shuffles all of the answers, reads them out loud in a humorous fashion, and picks their favorite. Whoever played that answer gets to keep the Black Card as one Awesome Point. After each round, a new player becomes the Card Czar, and every player draws back up to ten cards." – www.cardsagainsthumanity.com
There are no limits and endless stories so take a stab at politics, religion, geography, sex or pop culture and let loose your vulgar vocabulary. Take a look at these hilarious examples. Kinda makes you miss Mad Libs, no?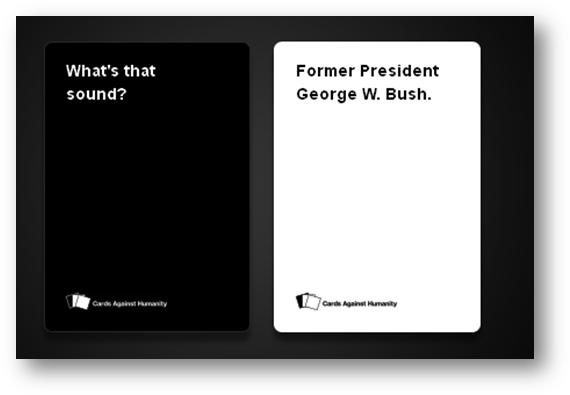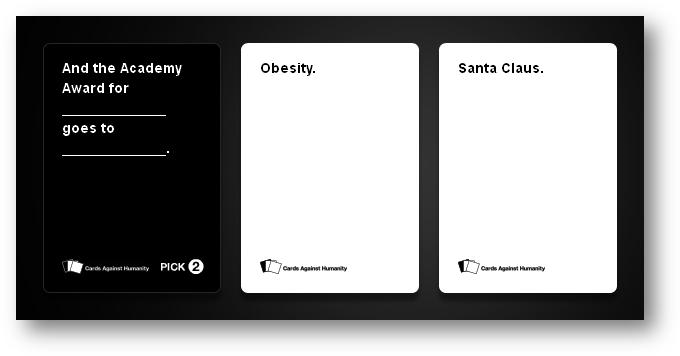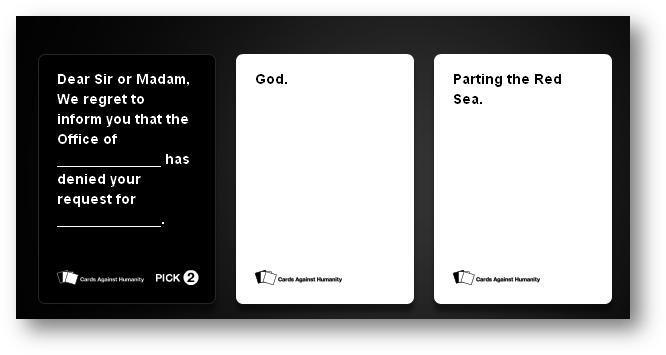 Posted by Codi
Image source Cards Against Humanity