Cards of Humanity is a Tough Critic
Men's fashion week wrapped up last month. #Yawn Wait, don't stop reading, it gets better… Normally, (no offense, guys) I could care less about the presentation of men's fashion – the trends aren't exactly groundbreaking (for good reason; the average guy is not sporting a belted trench and gold glitter shoes. Ahem, Gucci) and the shows tend to dip into weird territory (looking at you, Moschino).
If I do check out the men's collections it's because I like to play a game with myself where I picture my 6-foot ex-athlete bro-tastic boyfriend wearing some of the looks. Ah, what fun to imagine him in this little number. This season, though, Elle.com gave me an even better game to play with men's fashion week… Cards Against Humanity.
Faran Krentcil, Editor at Large for Elle.com, reviewed the shows using some of my favorite card game's signature phrases. Read on for some of the best observations from her.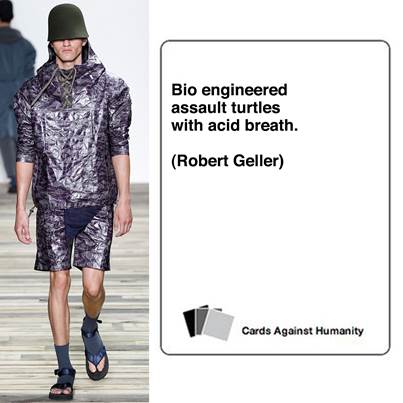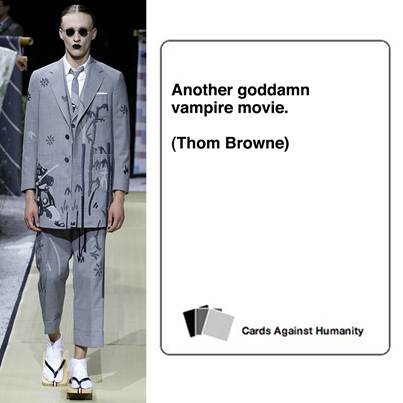 All images source Elle.com
Lightbulb! Don't be surprised if you see me toting my CAH deck around with me from now on, shuffling through for the perfect thing to say when I'm not sure WHAT to say.
Posted by Hillary