Caught in a Pickle Trend
Image Source: @MyDisneyEats on Twitter
Does it seem like every week you're introduced to a new food trend that has you scratching your head? Sure, some are worthwhile – I approve of the acaí bowl and poké bowl trends. But then there are the truly ridiculous that I just cannot get behind because these foods were seemingly created just for Instagram. Cloud eggs and fantastical beverages (e.g. Unicorn Frappuccinos and Cosmic Coolattas), I'm looking at you.
And now, it seems pickles are about to have their moment in the Instagram spotlight, in the form of pizza and ice cream. Sorry, but neither of these options are appealing to me – and I'm a pickle fan. But if you are intrigued, you'll have to visit both coasts to try these pickle provisions.
For pickle pizza, you'll have to head to Disneyland and visit Alien Pizza Planet (from the movie Toy Story). Slices of pickles top what is technically a cheeseburger pizza. Costing $8.49, a slice of this pie features a sesame seed crust topped with all the fixings of a burger: burger patty, tomatoes, onions, American and cheddar cheese, ketchup, mustard AND pizza sauce. And of course, the pickles.
After reviewing the menu, I don't think my taste buds will be as offended by Disney's cheeseburger pizza as they will be by the next pickle fad: pickle soft serve from New York's Lucky Pickle Dumpling Co. If after chowing down on the fast-casual restaurant's dumplings, noodles and pickle slaw (more pickles!), you need a sweet treat, you can choose between matcha, pickle and chocolate dip soft serve ice cream as your dessert.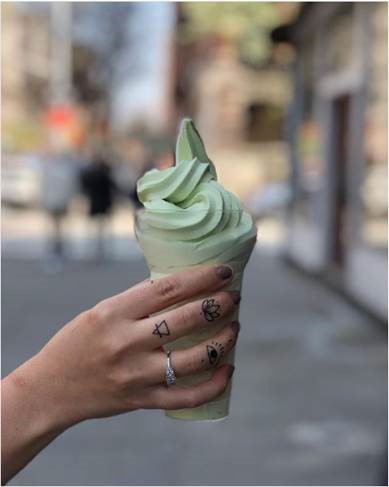 Image Source: @BreakfastAteTiffany on Instagram
Am I missing something? Does matching the sourness of a pickle with the creamy, sweet coolness of ice cream create some type of culinary masterpiece? Or am I right to bow out of taste-testing this fad?
I guess I'm just not seeing what the big dill is with the latest pickle trends.
Posted by Sylvie