Celeb-BRATTY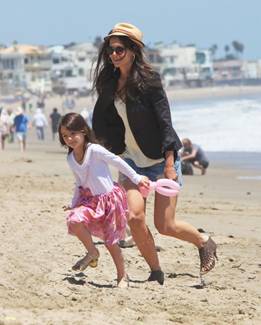 It has come to my attention that, recently, Suri Cruise wore heels to the beach (and ugly ones at that). Usually, I'm not one to judge (necessarily) about the ridiculous things people do, because in most cases, I've been there; just last week I had no choice but to saunter into my favorite bagel shop, draped in a baggy t-shirt, sofee shorts and 5 inch wedges. Let's just say I really needed a bagel…
But honestly, heels at the beach? Who came up with that idea? Oh wait…her mom, who ALSO wore heels to the beach.
Suri has been spotted in heels on numerous occasions, and has also been seen toting around a $1,700 Dolce and Gabbana bag. For some reason, the press find this "adorable" and declare Suri a "fashionista," but lets call her what she really is: BRATTY…and so are you Katie.
Suri, you are five, which qualifies you to still be running around the beach naked without it being inappropriate (well, almost). If anything, you should have on croc flip flops like the rest of your friends, if you have any, which I'm not sure you do because I've only ever seen you hang out with your mom. And Katie, you're just an idiot…do you know how much sand you're getting in those strappy booties??  If Justin Bobby can't wear combat boots to the beach, I'm pretty sure that makes party shoes out of the question.
Oh, and Suri?  You should really reconsider the chunky heel—it does nothing for your legs.
Posted by Hannah
Posted By: netgain