Cher Horowitz Goes to Spin Class
Modern adaptations of classic stories usually suck. Sorry, but I'm just not interested in sitting through a performance of Romeo and Juliet set in 2014 Brooklyn. That said, sometimes, with a few tweaks here and there, we get a story for the ages. Case in point? Amy Heckerling's 1995 film, Clueless. Loosely based on Jane Austin's Emma, Clueless presented a classic story in a modern way. Not to mention it gave us references for days – days.
The movie is a quality adaptation that no doubt took a ton of time and energy to produce. Thrillingly, we here in 2014 live in an age when all you need to breathe new life into an old story is a healthy helping of wit and a Twitter account. Behold @ModernClueless – a Twitter account dedicated to showing you what life would be like if Cher, Dionne, Tai & co. were running around today.
The account, which has garnered 25,000 followers to date, has only posted 142 tweets.(Editor's note: @ModernClueless has released two additional tweets in the 12 hours since this was written and has gained 1,000 more followers. Only Fake Cher Horowitz could have this kind of clout!) Among them, Tai gets a coconut water ("You guys want?"), Cher explains herself to Mr. Hall ("It was Shark Week! I had to haul ass to the ladies'.), and Dionne pokes fun at Britney Spears's weave ("I do not wear polyester hair, ok? Unlike some people I know.").
See below for a few more of my favorites, it's got all of the references you love, but this time with emoji and spin class.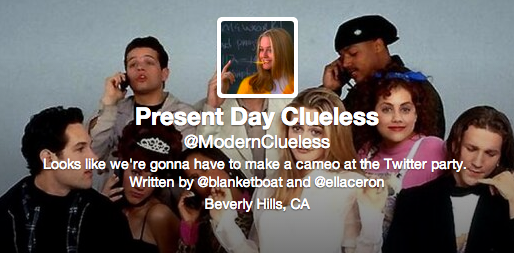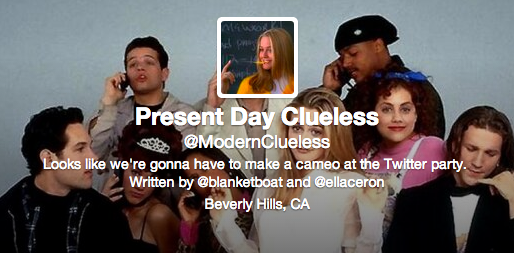 Story source Refinery29
Posted by Erin K.