Chrissy Teigen and John Legend are the New Jay-Z and Beyoncé
Image source popsugar.com
Now I may get a lot of heat for this, but let's just begin with last week's Grammy's red carpet.
Come on, what a beautiful couple! Chrissy KILLED IT on the red carpet (which Beyoncé didn't even walk) and John is looking more dapper than ever.  And then came John's performance of his newest hit, "All of Me." Not only is "All of Me" one of the greatest love songs ever written, John wrote it for Chrissy and featured her in the music video.
His performance did not disappoint; John showcased his gorgeous voice and flawless piano skills, but also his love for Chrissy. Seriously. You could feel it even sitting at home on your couch. Also kudos to the Grammy's for having a subtle spotlight on Chrissy while John was up on stage.
Sure Beyonce and Jay-Z performed together. Yes it was good and I guess it was entertaining, but has Jay-Z ever written a song for Beyonce? And their performance of "Drunk In Love" didn't even come close to expressing a love similar to that of John and Chrissy.
Chrissy and John have an amazing love story, but even more than that they have amazing personalities. What do we even know about Beyonce and Jay-Z? They really are a huge mystery. Not Chrissy and John. If you aren't following Chrissy on all social media, stop what you're doing and follow her… right now. Her Twitter and Instagram are non-stop hilarity. My favorite? A screen shot of a text conversation between her and John.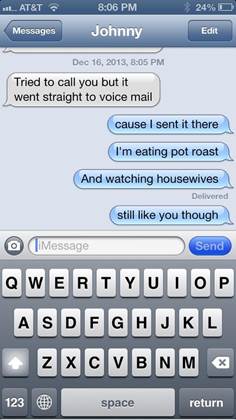 Image source Twitter
Obviously I favorited AND retweeted that one. And if I still have not convinced you how amazing Chrissy Teigen and John Legend are, look at them at her last birthday party: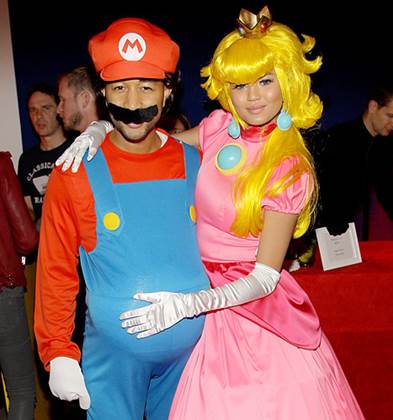 Image source usmagazine.com
Good looks, a great sense of humor, and a strong love for one another? Point made.
Posted by Chelsea