Cruel and Unusual Punishment
I worked as a camp counselor for five years at a town recreation day camp.  And over those five years, I worked with every grade from 1st through 8th.  Of course, there were positives and negatives of each, but one of the biggest negatives about working with the younger kids is their annoyingly persistent desire to do arts and crafts. Don't get me wrong, arts and crafts are great. It's arts and crafts with 2nd graders who like to use glitter… not so much. It infiltrated my purse, my car, my house. I woke up with glitter stuck to my face. Glitter is the herpes of the arts and crafts world. Once you have it, you will never get rid of it.
Which is why this Australian company is pure genius…assuming you have enemies (or friends!) you really care to take the time to fu*k with.  For only  $9.99 AUD, they'll ship your recipient of choice a large envelope of glitter along with a note. As soon as the unsuspecting recipient pulls out the note, the glitter will be released in all of its messy glory! This is a punishment only worthy of a truly mortal enemy. Yes, use this site sparingly.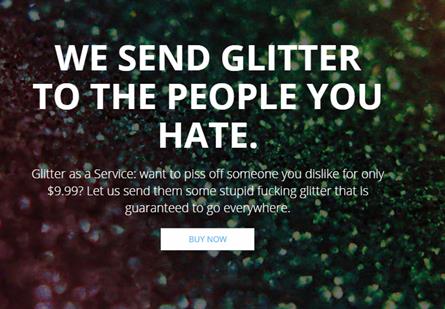 Image source shipyourenemiesglitter.com
 You're welcome.
Posted by Kat