Dancing Across China in 100 Days
Image source eonline.com
Although I have great travel aspirations, my exploration of the world has been pretty limited so far. No semester abroad in Sydney. No summer class in Paris. Not even a trip to Canada (which happens to be a mere boat ride across Lake Ontario from my hometown!). However. That is not to say I don't want to travel and see the world. Really who wouldn't? Europe. Asia. Definitely Australia.  And that sense of wanderlust has only intensified after seeing this video.
From the rainbow colored shorts, to the crazy moves, to the breathtaking backdrops, and of course the entertaining locals—this "One-Man Dance Party" will surely put a smile on your face. (Not to mention the soundtrack—Super Bowl 2014 halftime performer, Bruno Mars' "Treasure"!)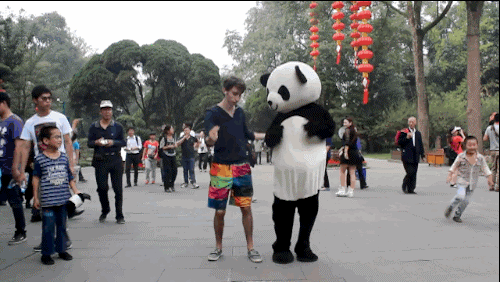 Image source eonline.com
According to E! Online Jake Gaba, a student at Dartmouth College, spent his time abroad in China dancing. Yes, for 100 days in the most populous country in the world he danced. From Beijing to Chengdu to  Xi'An, Tibet, Yangshuo, Zhangjiajie, Shanghai, Feng Huang, and Hong Kong Gaba danced, claiming it was his personal way to make the memories of his trip last.
One thing is for sure: This kid knows how to travel. As for his dancing, you be the judge!
Posted by Emily