Diesel Looks Like a Lady
Image source SadAndUseless.com
Action star Vin Diesel has rocked basically the same look from Boiler Room to The Fast & the Furious 10 ½, or whatever number they're on. Maybe that's why the blog Sad and Useless so brilliantly decided to make this photo montage entitled "Vin Diesel with Other Celebrities' Hair." Old Squinty McCueball really comes alive with the hair of Paula Deen, Mr. T and Nicki Minaj.
Now don't get me wrong, I'm not a fan of making fun of anyone. I'm just saying this male celebrity Photoshop fun is a welcome change from the many women-targeting memes like Female Celebrities with Beards and Actresses Without Teeth. These jokes are the digital humor equivalent of writing "Wash Me" on a dirty car.
For more guys getting glam, I also implore you to check out Male Celebrities as Women. Now there's some Photoshopping talent!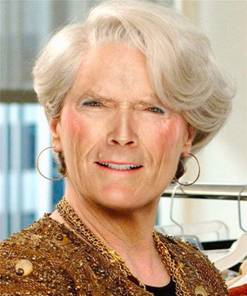 Image source The Chive
Posted by Michelle