Dior's Instagram Stunt: Shady or Genius?
Image Source: Instagram via @ChiaraFerragni 
If you follow any one of the top fashion influencers on Instagram, you will have recently seen (or been bombarded with) the relaunch of the iconic saddle bag, a late-90's closet staple toted around by Carrie Bradshaw and Paris Hilton. As a #PRGirl and wannabe #InstaQueen, Dior's relaunch tactics definitely peaked my interest.
In what Untouchable blog said resembled an "ancient war tactic dreamed up by a PR team with unlimited funds and hot friends," and popular Instagram account @diet_prada called "sketchy," dozens of fashion influencers shared Instagram posts featuring the Dior Saddle Bag within a 24-hour period. Here's the kicker: not ONE disclosed the post as an ad.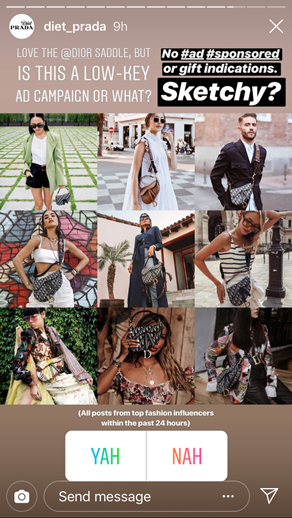 Image Source: Instagram via @diet_prada
So, is it shady or genius? I think we can all admit it's genius, but it's unclear whether Dior is playing dirty. As Untouchable points out, "it's all very Trump/Putin feeling," (too soon?) since the influencers are undoubtedly getting something out of the promotion ("gratitude from Dior, invitations to future collaborations with the brand, trips to Paris complete with hotel suites and chauffeured cars…"). Or, is gifting and less-than-clear disclosures when it comes to 'who got what from who and for how much' part of the territory when it comes to social media? I mean, even my dearly beloved Eva Chen, Fashion Director at Instagram, posted the Dior Saddle with no ad disclosure. Instagram proclaims to enforce FTC standards, and the verified #InstaQueen said she borrowed the bag for the day and no money changed hands, so it wasn't an #ad post.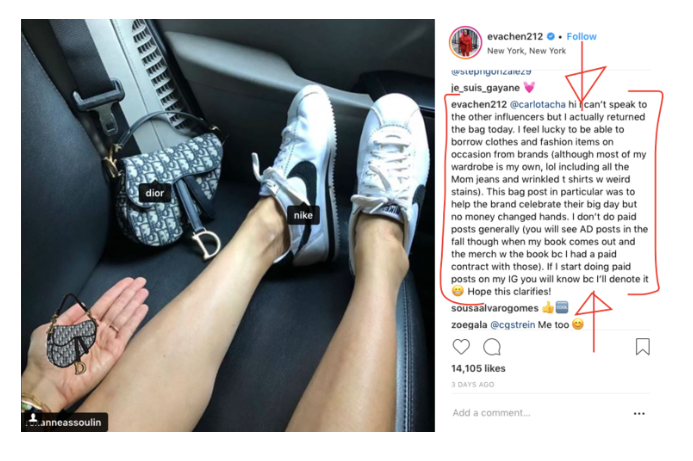 Image Source: Untouchable
Still undecided about where to place blame – Dior, influencers, Instagram or the threat of the uneducated public (in this case, the gullible consumer)? This blog breaks down the deets between the influencers and their relationship with Dior.
Posted by Giana