DJ Khaled is the Key to Snapchat – Bless up!
What does a 26 year old young professional, a high school junior and a 10 year old boy have in common? They all follow DJ Khaled on Snapchat! (These people are my sister, my cousin and I, BTW).
While DJ Khaled gained fame as a producer years ago from tracks like "All I Do is Win" and "Hold You Down," his popularity has skyrocketed over the past month due to his fanatical dedication and skillful navigation of the social media platform, Snapchat.
In his frequent snapchat stories, DJ Khaled documents his daily routine in an equally comical and motivational fashion. His posts often show him eating breakfast with his cook, Chef Dee, riding his jet ski on the Miami shoreline and watering his plants in his beloved garden.
He has created a cultural lexicon of words and sayings that everyone from Drake to Justin Bieber has started to adopt. From punchy expressions like "Bless up!", "Another one!" and "Lion!" to inspirational quotes like "walk with me on the pathway to more success," DJ Khaled comes off as part buffoon, part genius.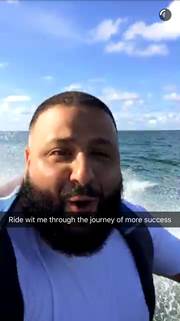 Image Source The Odyssey Online
The mundane, coupled with the outlandish, is captivating viewers, and leaving them wanting more. In the days where "reality" television gives us a highly produced  and limited glimpse into celebrity life, DJ Khaled gives us a raw, no holds barred, 24/7 window into a life that most people would not be willing to grant access.
As a result of his antics and authenticity, around two million people watch his Snapchat stories on a daily basis. He has certainly capitalized on this large following, hawking products from Cîroc Apple Vodka to his very own clothing website, wethebeststore.com. While many celebrities who peddle products are often viewed as sell-outs or uninteresting – DJ Khaled has incorporated his promotional efforts into a daily narrative that viewers have come to expect and enjoy.
While the hoopla and fascination with DJ Khaled is currently at an all-time high, I'm interested to see how long he can keep snapchatters watching. In the meantime, I'll be muttering "bless up!" with the throngs of 4th graders and 20 somethings alike until "Another one!" rises to the top of the pop culture frenzy.
Posted by Anne G.