Don't Be Fooled By Vogue's Major Makeover Article
I admit it… I'm hopelessly susceptible to clickbait. So when Who What Wear tweeted an article about a Vogue editor's "major" makeover, I was curious. I wanted to see A. what the Vogue editor looked like in the first place so I could wonder, perhaps evilly, how she got the job at the most elite fashion publication there is and B. the transformation. I've worked as personal stylist for over three years now, so I understand and appreciate the importance of changing up a person's style.
And so I clicked… and was unbelievably disappointed by what I saw. Don't get me wrong, I'm happy for the makeover participant – she feels better about herself and it's sparked a change in her routine, which I think is awesome. But from a reader's perspective, everything from the new articles of clothing to the before-and-after photographs is a total snooze. See her "major" transformation below…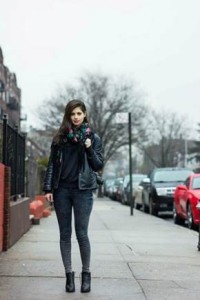 All Image source Vogue.com
She literally went from black jeans and a leather jacket to a more expensive pair of black jeans and a leather jacket. (And awkward sandals so they could call it a "Summer Makeover"). The biggest change, which none of the articles about this chick bother to mention, is her haircut. The haircut alone makes her look more sophisticated, professional and fashion-forward. But the rest of the makeover is just expensive versions of closet staples that any professional woman should already own at this stage in her career. Her wardrobe makeover shows me nothing about her personality, individuality or personal aesthetic. I expect better from Vogue… but then again, they did feature Kim Kardashian and Kanye on the cover last year. Fool me once, shame on you. Fool me twice, I'm reading Elle.
Posted by Hillary