Downward Facing Baby Goat
Image Source: Google Images
What could possibly be more relaxing than a baby goat ambling up and down your back or nibbling your shirt during child's pose? As ridiculous as this sounds, goat yoga is a recent fitness trend sweeping the nation, even causing a 2,400-person waitlist at one Oregon farm.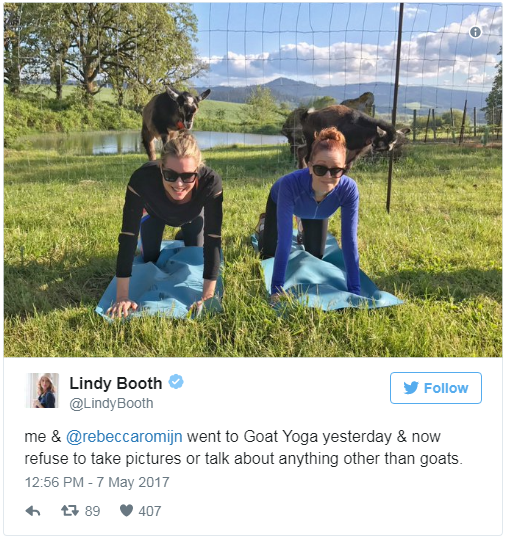 Image Source: Twitter
No joke, the baby goats are released into the room and proceed to do typical baby goat things like play with one another, climb stuff (like your body), and chew on your clothes and yoga mat.
Their noises and adorable antics would provide a great distraction from my winces of pain, labored movements, and my stiff lower baaa-ck (sorry for that but I had to). Aside from being super cute and taking your mind off the agony, they can potentially offer therapeutic benefits for those suffering from anxiety or depression. Even their barn odor would mask the smell of sweat – there are just endless benefits for doing yoga with goats! I can also imagine it being somewhat calming watching and attempting to emulate the Zen-like state of a goat chewing its cud.
The goat owners are aware of the craze that's turning heads and horns, so just be prepared to pay a hefty increase per session. SOUL Cycle, consider yourself warned!
Posted by Bill