Drunk In Love
Image Source BostInno
I'll preface this by saying that if you're blissfully in love and enjoying life in a committed relationship, you may want to click away. Things are about to get a wee bit dramatic. If you're like me and single in the city (not as glamorous and exciting as Sex and the City made it out to be) please read on. Y'all feel where I'm at.
In recent months, I've seen several reports claiming the same thing: Boston is "one of the top U.S. cities for singles." What's more, Boston men aren't just looking for casual relationships. Apparently, our dapper Boston dudes are looking for the real deal with 40% of them looking for someone to seriously settle down with. Now that's all well and good but what I want to know is – single men, where are you? Sure, the couples are everywhere. I see them hogging the benches in the Common or spread out on blankets enjoying a mid-afternoon picnic (because when you're in a relationship, who needs to go to work on a Tuesday?) and don't even get me started on the process required to walk behind a couple holding hands on the sidewalk. Bob and weave doesn't begin to cover it. And, what's with the hand in the back pocket of the jeans thing? So many things we singletons just don't understand.
That being said, I do have quite a list of things that I do understand and have become all too familiar with. To name a few:
People telling you that you should try and look nice whenever you go anywhere because "you never know when you'll meet Mr. Right." My response: can he be wearing a "Mr. Right" shirt? It would truly make things a whole lot easier. And no, makeup is not meant to be worn at the gym. It's just not.
Bad dates. Oof.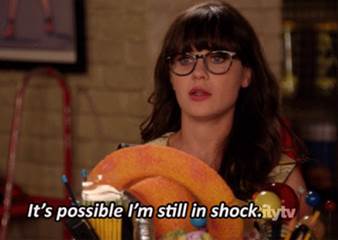 Image Source Buzzfeed
Third wheel-dom. I may not have invented the wheel but I sure have perfected the art of being the extra, unnecessary third one.
Contemplating what outings can acceptably be done alone. One movie ticket costs less than two. Think about it.
All I can say is Sex and the City lied to us all. I probably won't casually bump into my future husband while I'm walking down the sidewalk in a designer outfit and killer shoes. Headed to brunch. On a Wednesday morning. And you won't ever catch me in the "Naked Dress." But, thankfully, I live in Boston where single men are apparently flooding the streets, so my chances of snatching up Mr. Right are that much greater. Just as long as I don't catch a glimpse of him while I'm trapped behind a hand-holding couple on a squished sidewalk. Blegh.
End rant.
Posted by Amy