#EatingForTheInsta
What's the worst thing you can do at 11 a.m. when you accidentally forget to grab breakfast on your way out the door to work that morning?
Look at the #EatingForTheInsta hashtagged photos on Instagram.
You might say I'm a glutton for punishment, but when it comes to food porn, I can't resist checking out the new photos posted each day. And it always tends to happen when I'm hungry and about to pop out of the office for lunch.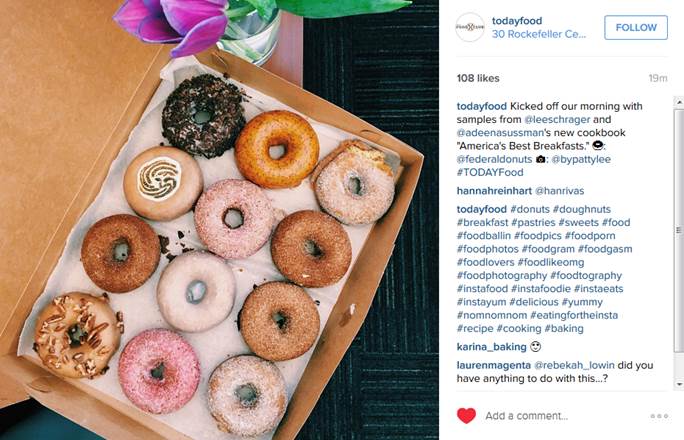 Recently, Bon Appetit shared that social media influencers are changing the food scene, one Instagram at a time. And it's true. As you can see above, there's a designated hashtag for Instagram users to use, where they share photos of food they're eating specifically because its highly visual and will most likely get great engagement on the social media app.
Why is this amazing for restaurants? Because now, if a social influencer stops by your spot for a meal, they're sharing their experience (in visual form) to thousands of millennials that follow their Instagram feed… who will then, in turn, visit the same restaurant to most likely re-create the photo of the dish that captured their attention in the first place.
For example, Instagram pics of Black Tap NYC's milkshakes became so wildly popular that the owner was able to open their 2nd  location just seven months after the first opened. And even now, due to their Instagram popularity, they have lines out the door.
This has become such a phenomenon that I'll be the first one to admit…when it comes to picking out where I want to grab a bite, if I know it is "Instagrammable," I'm much more likely to visit.
So the next time you're at a restaurant and about to order, take a moment to think… Am I ordering this because I like it? Or because I'm "eating for the Insta?"
Posted by Robbin