Eight Reasons Living in the Cold Ain't So Bad
Anyone who knows me is probably SHOCKED to see my name on the byline of this blog. I'm always the friend who is "freezing" in 65-degree weather, partakes in absolutely no winter sports and pretty much sheds a tear every time it snows. But since part of my New Year's resolution is to be more positive, I've compiled the top eight reasons living in the cold is actually awesome.
1. Loose clothing. Winter means keeping warm. Keeping warm means layers. And layers mean loose fitting, comfy, non-constricting clothing. Nothing better than hiding under an oversize cozy sweater and still looking put-together. No need for a bikini body in the cold!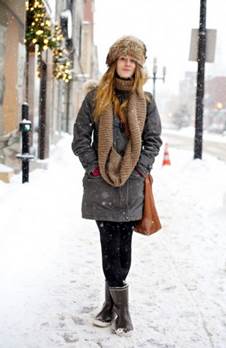 Image source Chic on the Street
2. Comfort food. Yes, you can eat soup and sip hot lattes in the summer, but the satisfaction just isn't the same as on a chilly winter day. Stick-to-your-ribs meals just simply taste better in the cold.
3. Cozy nights in. Is it just me, or do you kind of feel guilty when there's gorgeous weather outside but you just want to lay on your couch all day? Well, the cold and snow outside is the perfect excuse. My motto is, "if it's snowing, I'm not going."
4. Beautiful scenery. There's nothing more magical looking than fresh, untouched powder on the ground after the snowfall.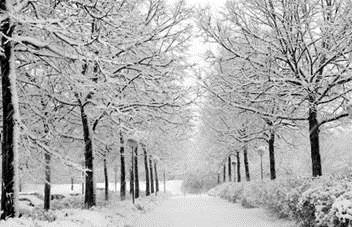 Image source imgarcade
5. Holiday season. Cold means winter, and winter means the holidays. Getting in the festive spirit makes everyone just a little bit cheerier this time of year.
6. Good hair days. The dry winter air makes for some easy to manage hair. No frizz and humidity here!
7. Snow days. Kids and adults alike enjoy the feeling of peering outside the window and realizing there is just too much snow to venture from your house. There's absolutely no summer equivalent for a snow day!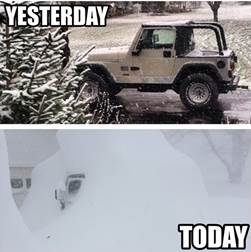 Image source Buzzfeed
8. Great sleeping weather. There's nothing better than a good night sleep when its freezing out but cozy under your warm blankets.
Enjoying what's left of winter (a lot) won't be so bad if you think of the positives! But hey, I'm not saying I'd turn down a tropical vacation right now either…hint, hint 😉
Posted by Carli