ELLE Dubs 2017's Top Toddlers
Photo Source: HollywoodLife.com
To coincide with the announcement of Forbes' 30 Under 30, the self-proclaimed "definitive gathering of today's leading young change-makers and innovators in the U.S.," ELLE has taken the liberty to publish their own list of 5 Under 5 to Watch in 2017. According to the site, these "accomplished" tots are "truly the next next next gen to look out for."  I know the suspense is killing you, so I won't waste any more time getting to the big reveal.
No surprise that North West leads the list at age 3. When your parents are Kimye, there's no question that you'll be living large, regardless of how small you actually are.
Other prominent pipsqueaks include "This Kid From the Memes," who, frankly, I have no idea who it is, but I will admit that he's cute, two of the author's nephews (pays to have aunts in high places), Prince George, because…obviously, and the winner in my book, Eva Chen's daughter Ren.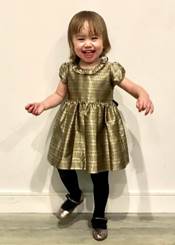 Photo Source: Instagram.com
At age 3, she's already running meetings in Facebook's tiny office – which happens to be the perfect size for her – is appropriately skeptical of Santa and most importantly, takes her political responsibility very seriously. You go girl!
Posted by Amanda