Enough with the Rainbows Already
I don't mean to sound like a curmudgeon, especially because I really do like bright, colorful, sparkly things, but I'm sick of rainbow bagels, rainbow pizza, rainbow hamburgers and pretty much any other artificially multi-hued culinary creation that was born solely for the purpose of becoming Insta-famous for a hot second. I can make a few exceptions, specifically for funfetti cake and rainbow cookies, but some of these dishes have gotten out of control.  It seems like the more colors there are, the grosser it gets…
Rainbow Grilled Cheese
There was really nothing wrong with grilled cheese to begin with…the cheesy buttery goodness is perfect without pinks, purples and pistachios.
Image source: Cosmo.com
Rainbow Pizza
Like grilled cheese, pizza is also delicious, and almost nothing could make it gross…except lining up vegetables that don't have any place on a pie – looking at you, corn – in a very calculated way. Let's get real, no one actually wants to eat this disgusting invention.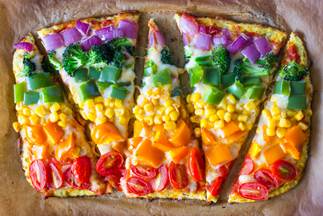 Image source: GimmeDelicious.com
Rainbow Burger
I love a good burger, but I just can't find one nice thing to say about this one.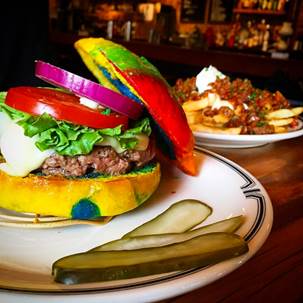 Image source: FoodandWine.com
Rainbow Pancakes
I could see how this could *potentially* be a good idea, but who really wakes up and decides this is what they're craving for Sunday brunch?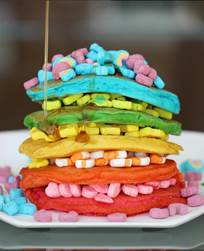 Image source: The Naughty Fork
And last and certainly least appetizing…
Rainbow Hot Dogs
This recipe has over 15 steps, involving measuring, cutting, folding and wrapping…all to create a shameful ode to a perfectly good pig in a blanket.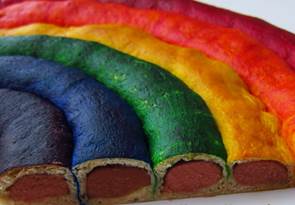 Image source: HungryHappenings.com
Posted by Amanda