Fangirl Fairytales Do Come True
Image Source Instagram
The media and those hopelessly infatuated with their celebrity crushes have all been going crazy recently after it'd been confirmed that Disney channel star Jake Austin has begun dating his superfan Danielle, a 22 year old girl who has essentially been cyber stalking him for the last few years. After tweeting Austin things like "…is it bad that I wanna kiss you right now," the two finally met and clearly hit it off, with the Disney star posting an Instagram of the two of them sharing a kiss.
This story is excellent, and for quite a few reasons. Sure, Jamie Foxx and Patriots player Darius Fleming might have saved people from burning vehicles. Thousands of police officers patrolled our streets keeping us safe, hundreds of firefighters probably saved kittens out of trees and a number of Good Samaritans may have helped the elderly cross the road. But this is the most hopeful story I've read in a long time. First of all, it shows the razor thin line between perseverance and restraining order. In this day and age, when does excessive tweeting to celebrities we've never met cross the line? We may never know, as different celebs have different reactions. Most will ignore you, cool girls Chrissy Teigen and Amy Schumer will cleverly respond to you, and Jake Austin will date you. This girl deserves a pat on the back, in one sense, for not backing down when people surely laughed at her for never having met the man who stole her heart. Who's laughing now?
If I'm being completely honest, though, I mostly love this story because my own personal fairytale now seems so close to reality that I can just about see it on the horizon.
Did you hear that, Jake Gyllenhaal? We have a shot at love together.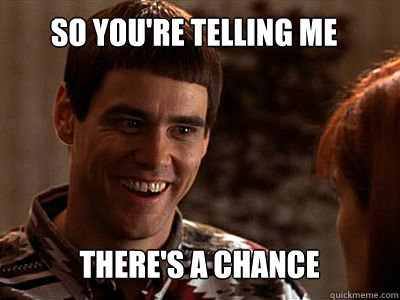 Image Source Quick Meme
While Mr. Gyllenhaal is getting lost in a minefield of supermodels, A-list actresses and pop sensations, he has yet to discover that the true apple of his eye is a PR major residing in Boston, and the slightly larger age gap between the two of us is nothing that true love can't mend. The only problem that remains is his lack of social media accounts, so if you're reading this, Jake, I'm free all weekend.
Posted by Charlotte