Fashion Dads
My dad has taught me a lot of things over the years. Whether it was practicing with me for hours to help me make the team, acting as a human cone when I was learning how to parallel park for my driving exam, or becoming the peacemaker when my brother and I fought over the remote, my dad never failed to impart wisdom on me. He knows a lot and I'm thankful for what I learned from him growing up. However, one thing I am POSITIVE I didn't inherit from him was his sense of style. If I did, I would no doubt be wearing ill-fitting jeans with high socks and sneakers right now. No offense to my dad, but fashion is one thing he knows nothing about.
But fortunately, he is not alone! The Instagram account @fashiondads highlights the best (meaning worst) dad outfits I've ever seen. The hilarious pictures are accompanied by even more hysterical captions, mimicking the language used by fashion bloggers. The result is a fashion blogger-like Instagram dedicated to dorky dad duds. See some of my favorites below:I love love LOVE sports, but when the seasons overlap, it can be tough to stay #FashionForward. That's why I paired this #ChicagoBears tee with my #OrlandoMagic swishy jacket and topped it off with a red #WhiteSox ball cap to stay ahead of the trends. You can never be too prepared! And of course, I'm wearing my favorite #Dockers khakis to complete the look. #SportsAndStyle #Athleisure #FashionForecasting #CasualAndConfident #AndConfused #SuperFan #SuperFashion #OOTD #GetMyLook #DicksSportingGoods #90sSwag #NoFlexZone #Vintage #HomeRun via @dianafrazee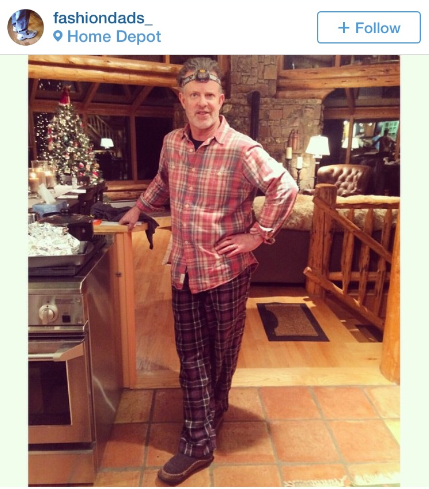 Accessories can truly make or break any outfit. In this case I worked around my head lamp by pairing it with a vintage #Aeropostale plaid, complementary plaid pajama pant, and my #Rockport house shoes. Just because you're lounging around the house doesn't mean you should sacrifice style! And remember to choose flattering poses during your photo shoots like this #SkinnyArm. #CasualComfort #FashionAndFunction #StyleTips #50ShadesOfPlaid #Lumbersexual #MountainLooks #PajamaSwag #OutfitOfTheNight #OOTN #DressToImpressAlways #BodyLanguage #HipsDontLie #AccessorizingIsEverything #LetYourStyleLightTheWay #StayHumble #FashionDads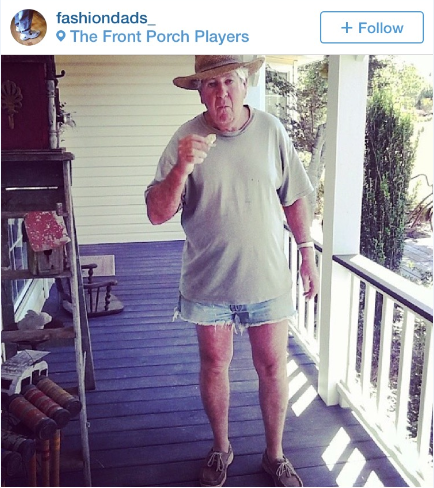 The key to a #CasualChic ensemble is looking like it was effortless. While it may have taken me hours to pair these #vintage #LeviStrauss cutoffs with a gray #Hanes tee and my trendy #topsiders, it appears that I just threw it on and stepped outside. And like I always say, the perfect hat can truly complete any outfit!!  #OOTD #StyleTips #SteppingOut #EffortlessElegance #IslandStyle #DaisyDukes #IfYouGotItFlauntIt #DenimDiva #HanesBeefyT #AgingLikeAFineWine #Fitbit #Accessorizing #LiveLaughLove #FashionDads via @emsgrims

I like to call this look the double C — cozy & chic.  I LOVE pairing a plaid robe with a solid 3/4 zip pullover. It's a subtle but fun way to mix it up! As for the hat, it's extremely important to keep a sense of humor in this industry. There will always be haters out there! #fashionblogger #LoveAndLaughter #OldNavyRobe #Polo3/4Zip #GapSweats #HanesWhiteTshirtsandSocks
Followers can tag submissions to be featured on the account, so who knows, your dad could be next!
Posted by Carli